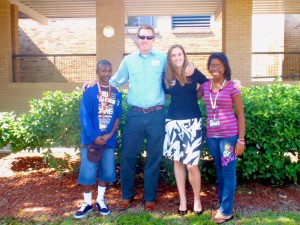 Julia Landon College Preparatory and Leadership Development School appreciates the many services the faith-based partnership with Southside Baptist Church in San Marco has brought to the school and believes that the partnership has led to positive outcomes for both the school and for students.
In particular, the faith-based partnership has strengthened the connection to the surrounding community and created opportunities to make students' learning experiences more relevant to their lives outside of Landon. The mentors, simply by nature of the relationship, create a sense of accountability for the students that may be lacking within their own lives. One parent of a former 8th grade student called recently to offer thanks for the pairing of her son with a mentor. The student is doing well at a local public high school and it was the direct connection with the mentor, the parent states, that brought her son out of his shell, helped him gain confidence, and allowed him to share his goals and dreams of his future. Church members also provide their support through prayer, and offer sources of encouragement and celebration to the teaching staff. Most importantly, their well-trained volunteer mentors have provided the greatest impact to the school and students. 
Over the course of the 2009-2010 school year, ten mentors from Southside Baptist Church met with ten eighth grade students for six consecutive months. These ten students were from many different backgrounds, however, it was the individual attention that the volunteers provided to these students that played a significant role in their success. These mentors believed through their work that they could improve students' motivation, self-esteem, goal setting, anger management, conflict resolution, and leadership skills. Without a doubt, all of these students went on to become high school students in large part because of the relationships they developed with their mentees. All of the ten students now have a different outlook for their future.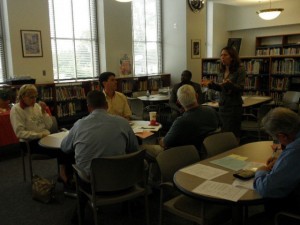 For the school year 2010-2011, the partnership has grown to twenty members. Mentors commit to meeting with one student, for one hour a week, for at least one academic school year. This hour is a mixture of relationship building and emotional support. Most importantly, it is an hour the student spends knowing that someone cares about them.
Julia Landon believes that faith-based partnerships can transform schools through developing the personal and leadership skills of our students. We measure our success based on the impact that the partnership with Southside Baptist Church has had on our teachers, our students and their families, and our school.