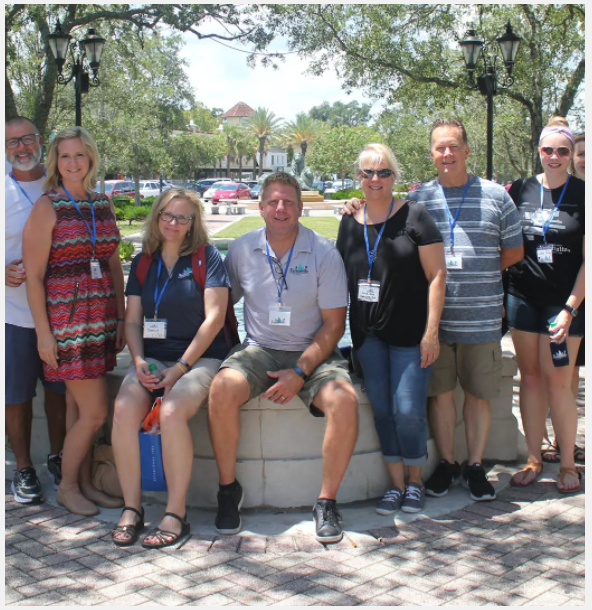 With over 1.4 million visitors coming to Jacksonville annually and its amazing food scene, offering food tours here is a natural fit. Visitors and locals alike are often looking for things to do and two things are vividly clear: Jacksonville has an abundance of rich history and many notable chefs that tell a story through their food. It was a natural progression to marry these two together and have passionate local guides host guests on a food tour. We are passionate about this business and are looking forward to expanding to several other areas throughout Jacksonville. We are grateful for this opportunity and invite you along with us on this journey.
Taste of Jacksonville Food Tours
Website: TasteofJacksonvilleFoodTours.com
(904) 463-8694
---

bb's restaurant and bar offer a mix of American continental cuisine with international influences including great salads, seafood, pizzas, and sandwiches as well as daily specials of fresh-caught fish, steaks, chops, and pasta. Come enjoy our excellent food and atmosphere. Utilize our free wifi and don't forget to check in to foursquare for special deals.

bb's
1019 Hendricks Avenue
Jacksonville, FL 32207
PH: (904) 306-0100 EMAIL: orders@bbsrestaurant.com
---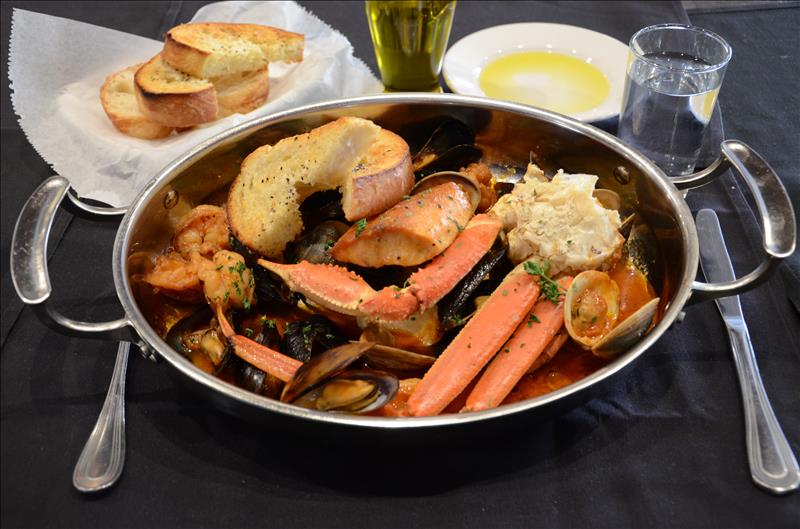 Bistro Aix
1440 San Marco Blvd.
Jacksonville, FL 32207
PH: (904) 398-1949
Website: https://bistrox.com/
---
The Bearded Pig
1808 Kings Avenue
Jacksonville, FL 32207
PH: (904) 619-2247
Website: https://thebeardedpigbbq.com/
---
San Marco Dreamette
1905 Hendricks Avenue
Jacksonville, FL 32207
PH: (904) 999-0051
Website: https://sanmarcodreamette.com

---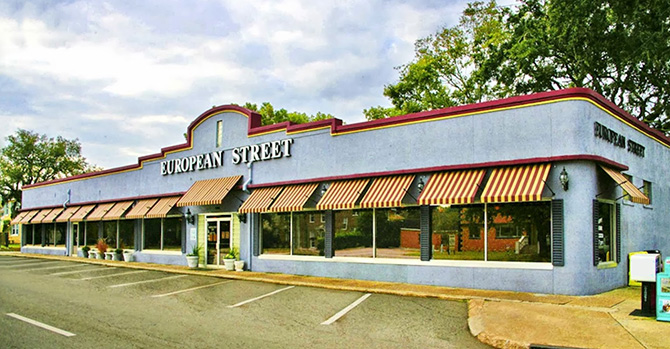 European Street Cafe takes you away from the ordinary into an international atmosphere where you can feel comfortable while exploring, and indulging in the pleasures of foreign countries. Our mission is to provide comfort food and exemplary service with kindness and tolerance in a nurturing and nourishing, family-fun environment for generations to come. Our menu includes over 150 original and traditional sandwiches, salads and soups along with the most comprehensive beer selection in North Florida. Our continual awards include "Where the Locals Eat" and "Best Beer Selection in North Florida."
European Street
1704 San Marco Blvd
Jacksonville, FL 32207
PH: 904-398-9500   EMAIL: info@europeanstreet.com 
Website: https://www.restaurantji.com/fl/jacksonville/european-street-cafe-3/
---
Firehouse Subs® is a fast-casual restaurant chain with a passion for Hearty and Flavorful Food, Heartfelt Service, and Public Safety. Founded by brothers and former firefighters Chris Sorensen and Robin Sorensen, Firehouse Subs is a brand built on decades of fire and police service, steaming hot subs piled higher with the highest quality meats and cheeses, and its commitment to saving lives through the establishment of the nonprofit, Firehouse Subs Public Safety Foundation®. The founders are the real deal, the food is their creation and the company is built upon a family of franchise operators who share their same passion for serving others. In 2015, Firehouse Subs made its international debut in Canada, with plans to open more than 90 locations in the Ontario market and future plans for further Canada expansion. Also, in 2015, the brand introduced its first digital loyalty rewards program, Firehouse Rewards, which allows guests to earn and redeem points for each visit through a smartphone app. Firehouse Subs is consistently recognized as a leader in the fast-casual segment. For the last three years, Firehouse Subs was ranked No. 1 by Technomic's Chain Restaurant Consumers' Choice Awards among fast-casual brands in the categories of food quality (2016), service (2015) and atmosphere (2014). Forbes recognized Firehouse Subs in 2015 as a Best Franchise to Buy.
Firehouse Subs, San Marco
1949-1 San Marco Blvd.
Jacksonville, FL 32207
Website: https://www.restaurantji.com/fl/jacksonville/firehouse-subs-/
---
Flame Broiler
1539 San Marco Blvd.
Jacksonville, FL 32207
PH: (904) 900-1614
Website: https://flamebroilerusa.com/
---
Hightide Burrito
1538 Hendricks Avenue
Jacksonville, FL 32207
PH: (904) 683-7396
Website: https://www.hightideburrito.com/
---
For true Loop fans, this location is hallowed ground. Our doors opened in 1981 as the very first Loop location. We're still going strong as the true anchor of historic San Marco Square. Just like the year we opened, customers still serve as our guide. The famed San Marco Theatre is right nearby but the real star attraction is our wonderfully diverse menu. There's something for everyone. Just like San Marco itself.
The Loop Restaurant
1014 San Marco Blvd
Jacksonville, FL 32207
PH: (904) 399-5667
Website: https://www.thelooprestaurant.com/
---

Maple Street Biscuit Company was started by Scott Moore and Gus Evans, and they hand-built it right here in Jacksonville, Florida. They opened their doors on November 8, 2012, to a community with open arms and hungry tummies. There lies a heartbeat behind Maple Street before it ever opened its doors, and it wasn't out to just make a profit. It was out to make a difference and be a part of the community. Walking into every Maple Street, you should be walking into a culture created around the idea of just that. You'll notice a lot of community-style seating for you to meet your neighbor or if you're visiting, meeting the locals.
Maple Street also operates on some key core values:
Consistent Southern Comfort Food with a Modern Twist
Immaculately clean store
Gracious Service
With those core values, we craft good food from great products. It's not just about a flaky buttermilk biscuit, it's what you put inside of it. Using quality ingredients, making most of them in house, and serving up some of the best locally roasted coffee Maple Street will turn you into a regular.

Maple Street Biscuits
2004 San Marco Blvd
Jacksonville, FL 32207
PH: 904-398-1004 EMAIL: contact@tavernasanmarco.com
website: www.maplestreetbiscuits.com
---
For over a decade, Matthew's Restaurant has been one of Northeast Florida's most distinctive, innovative, and elegant places to dine in the San Marco area. Chef Matthew Medure has set the standard with his unique menu options, impeccable service, and attention to detail. The menu is carefully thought out each day by Chef de Cuisine Alexander Yim to surprise and entertain your palate, and to satisfy every distinctive taste.
Dress code is business casual: No shorts, t-shirts, sneakers, tattered jeans, or beachwear.
Matthew's Restaurant
2107 Hendricks Avenue
Jacksonville, FL 32207
---
Pink Salt Restaurant & Wine Bar
1430 San Marco Blvd.
Jacksonville, FL 32207
PH: (904) 551- 4289
Website: https://www.pinksaltrestaurant.com/
---
Rue St. Marc
2103 San Marco Blvd.
Jacksonville, FL 32207
PH: (904) 619-0861
Website: https://ruesaintmarc.com/
---

Seafood Island Bar & Grille
1959 San Marco Blvd
Jacksonville, FL 32207
PH: (904) 399-8815
Website: https://seafoodislandgrille.com/

---
Taverna
1986 San Marco Blvd
Jacksonville, FL 32207
PH: (904) 398-3005
Website: https://taverna.restaurant/
---
V Pizza
1406 Hendricks Avenue
Jacksonville, FL 32207
PH: (904) 527-1511
Website: https://www.vpizza.com
---
Taste of Jacksonville Food Tours