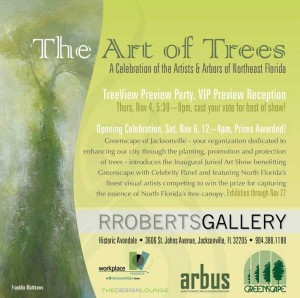 Its raining out and Avondale seems so far away. But tonight's Greenscape event is worth traveling out of San Marco to see. Tonight R. Roberts Gallery will host a preview party for the first Greenscape juried art show – The Art of Trees. The event features several local artists and their take on our trees and tree canopy. Artists will be at the gallery tonight to mingle with the crowd and share their interpretation of Northeast Florida's tree canopy.
Dr. Debra Murphy-Livingston, John Bunker and Cindy Edelman will serve as jury members and award first, second and third prizes at the award reception this Saturday.
Make your way to Avondale to support Greenscape and the trees we love throughout our neighborhood and all of Jacksonville.
R. Roberts Gallery, 3606 St. Johns Avenue, 388.1188