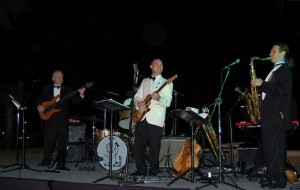 The white Chinese lanterns were hung from the trees along the sidewalks.  The band, Freudian Slip, set up under the amber glow of the gazebo in Balis Park and at 6:00 pm on Thursday evening, the party began. People arrived alone or in pairs, with groups of friends or their family.  Affair in the Square is meant for everyone!
With the band playing from 6 – 9pm, great music was heard throughout the Square while people wandered in and out of the galleries, shops, and boutiques, tasting wine and nibbling cheese, and having their passports stamped at each location.  Completed passports are eligible for a $1,000 gift basket! The winner will be drawn at Holiday Magic on December 10.
A prelude to the weekend, Affair in the Square is becoming a San Marco tradition, and will be held the third Thursday of each month.  The ambiance was upbeat, the sidewalks were busy with friends and neighbors enjoying the many delights that San Marco Square offers.  Shops were lit, their doors opened to the street while people browsed and perhaps began their holiday shopping.  The restaurants were busy, with Taverna offering café-style seating for those who preferred to dine al fresco on this perfect autumn evening.  Galleries, too, were open late as guests enjoyed browsing the exhibits; San Marco has a truly eclectic and diverse array of independent businesses and dining experiences right here at home.  Passports were available at several locations about the Square, from end to end, so guests could have the full Affair experience of a wine tasting and shopping.  TAG – Take Away Gourmet was one of the passport stops at the east end of the Square and it was a mild evening for street shopping and strolling,  festive and enjoyable for everyone who came. 
Pink Ivy was on the sidewalk, delighting the children by transforming their faces with artistic and sparkly designs.  What child isn't captivated by a face-painting experience?  San Marco Bookstore had author Matt Borer, PhD, signing his book It's  Not Me, It's You! while off-Square merchants Bistro AIX, High Tide Burrito,  The Performer's Academy and Prudential Realty  were represented by their sidewalk table displays and special offers. Off-Square restaurants b.b.'s, Matthew's, and Layla's offered drink specials to their guests who came into their establishments. 
The music of Freudian Slip was a terrific backdrop to the camaraderie on the sidewalk, creating a festive occasion for everyone from families, friends, or couples.  Affair on the Square!  Browse the photo gallery: perhaps you're there?!  If you haven't made it out yet, Affair on the Square will be back!  Your San Marco merchants are hosting this fun event every month on the third Thursday.  Pencil it in!