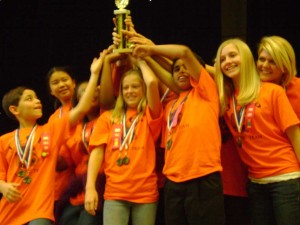 The annual Math Field Day Competition was held at Julia Landon College Preparatory and Leadership Development School for the second year in a row on November 2, 2010. By the end of the event the entire audience of over 500 stood on edge as the winners were announced. The final results, delivered by Ms. Mary Badillo, an eighth grade math teacher at Julia Landon, were greeted with deafening cheers from the victors. The math team from Julia Landon had won first place! The team from Julia Landon settled for second last year, defeated by Christ the King Middle School.  "We were expecting to pull second after getting no points in the calculator and estimation events", says Matthew, an eighth grade member of the Julia Landon College Preparatory team. "We were definitely not expecting first place."
            Math Field day is a fast- paced competition where schools from all over Duval County come to compete in a wide variety of Math based events. These events challenge skills ranging from simple computation to graphing equations. The first part of the competition is the most tense one for fans and parents as the teams pool their brainpower into solving a team quiz of 20 problems in a mere ten minutes. This is a big chunk of points and the deciding factor in case of a tie. After that, spectators are allowed in to see the remainder of the events play out.
            In one of the final events, the Super Quiz, the pressure was on Ashton, an eighth grader from Julia Landon. The five other competitors from her team had gotten all of their respective questions correct, and the team was three answers from a perfect score in this event. As Ms. Mary Badillo read the question and Ashton started working, the whole team held its breath. "I was so nervous," said Ashton after the competition. "Missing one of the questions would have lost us the competition and I didn't want to let my team down." Ashton then turned in her desk and gave the predetermined signal of thumbs up to indicate she had gotten it correct.
            When asked, Harrison, of the Julia Landon College Preparatory team, said "If I had to determine the main turning point in the competition, it was when we got ten points in the Graphing Event and Christ the King got none." The actual numerical score was a tie, but Julia Landon won because the team quiz score was higher by just two points. Ms. Stacy Tuttle, an eighth grade math teacher at Julia Landon, was very proud of the entire team and felt that all the practice sessions had led to the victory. She said, "Seeing all of their faces after their accomplishment made me so excited and proud of them."