On Wednesday evening, Bistro AIX served up a variety of hors d'oeuvres: Mushroom & Fontina Pizza ~ puree of mushrooms, chives & white truffle oil; Three Cheese Pizza ~ with fresh tomatoes & basil; Crispy Chips, yummy housemade potato chips with warm blue cheese; Cheese Sticks ~ fresh mozzarella, tomato & basil with balsamic glaze; and Moroccan Pork & Sweet Grape Kabobs.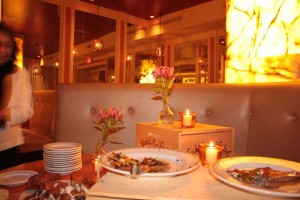 Many of the independent business owners who belong to the San Marco Merchants Association gathered for an evening of relaxed socializing in a couple of Bistro AIX's private dining rooms.
The restaurant had its usual full house, busy on a Wednesday evening, while the people who own many of our on- and off-Square businesses enjoyed a relaxing couple of hours together.
The San Marco Merchants Association grew by record numbers in 2010. Strong leadership and a commitment to generating community cohesiveness in the Square and the neighborhood, the merchants work hard to make San Marco an attractive place to do business. They plan and host community events that bring liveliness and fun to the Square and the neighborhood, the most notable of 2010 being the all new Affair on the Square which is held on the third Thursday of every month.
Despite the road construction on San Marco Boulevard, Bistro AIX is still easy to access with ample parking in the rear. Its ambiance is charming as always, and the food, sublime. Bistro AIX is not only a wonderful place to dine; its private rooms are suitable for any number of events – from business meetings to bridal showers, and anything in between.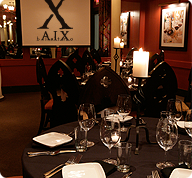 The mixer was a fun and relaxed evening for the merchants – both on the Square and off the Square, to socialize amongst themselves; a change of pace from the everyday busyness of a business person's life.
Your San Marco independent business owners care about the San Marco community and the quality of life here. Membership in the merchants association and participating in planning meetings for upcoming events are all 'extras' that they give, in addition to maintaining their businesses in the neighborhood. Together with our excellent residents and guests, everyone comes together to create the special neighborhood of San Marco, in Jacksonville. Going local is easy in a community like ours!