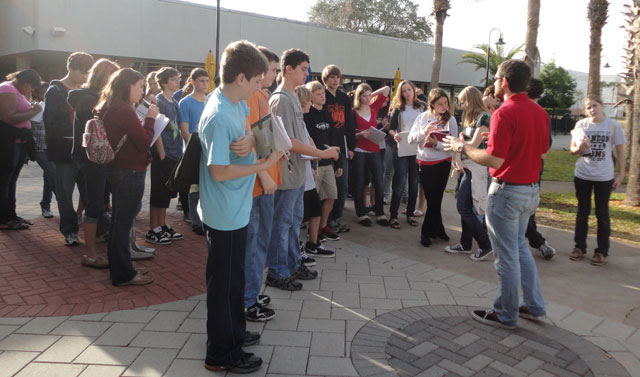 During the month of February, many of Julia Landon's seventh and eighth grade students attended two field trips designed to show them the wide range of colleges within the state of Florida. This year Julia Landon College Preparatory students had the opportunity to explore colleges that many never thought about attending, including Embry Riddle, the University of Miami, Florida International University, Nova Southeastern University, Rollins College, University of Florida, University of Central Florida, and the University of South Florida.
            During the tours, students received a series of campus facts that can be used to aid them in choosing a college for their remaining academic careers. Along the way, students completed assignments that were used as supplements for their missed school time. Supplemental assignments included keeping a college-to-college journal, complete with their reflections from the day, a budget of all costs incurred from the trip, and science and arts-based educational information from the visits to Sea World, Busch Gardens, Florida Aquarium, and the Dali Museum.
            Additionally, college campus food venues and campus attractions helped to immerse students in the cultures of these schools. The final stop for the eighth graders included a fun-filled visit to SeaWorld in Orlando where students were given an educational tour which provided a focus for those interested in pursuing careers ranging from wildlife conservation, to animal science studies, or even business management. The seventh graders enjoyed Busch Gardens and the Florida Aquarium where the students dissected squid, looked at sediments from around the world, and more importantly, participated in an ecosystem unit that correlated to endangered species. In the end, the college field trips showcased colleges and communities around Florida ranging from the well-known bigger schools to the smaller more unique options. It is the goal of Julia Landon to increase awareness of the wide variety of colleges and cultures that their home state has to offer for our college bound learners.