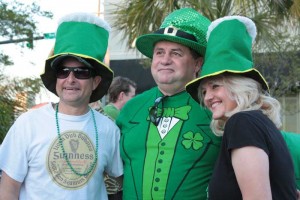 Last Thursday was a double holiday in San Marco.  March 17th was St. Patrick's Day, while the third Thursday of the month is  the Affair in the Square. Now, it's spring and the hours of daylight are lengthening, people were out and having a great time in wandering about the Square on this cheerful occasion.
It was a beautifully mild spring evening, and the music in Balis Park started at 6:00pm.
The group, aptly named Little Green Men, were the evening's musical entertainment.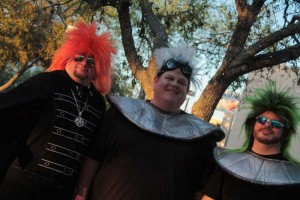 Couples, friends, families – there was something for everyone and the mood was upbeat all evening long.  It was great to have that golden end-of-the-day light shining on the  young dancers from The Performers Academy  as they danced to the delight of the Balis Park audience.  A local studio for the performing arts, The Performer's Academy is open to anyone who wishes to explore their creative side,with myriad programs for all ages and aspects of the arts.  The young dancers did not disappoint; it was delightful to watch them put an Irish spin on one of their numbers. Glance at their website as they're  planning lots of opportunities for young people to participate in arts summer camps,  or other programs designed for people of all ages and inclination.
There was face painting by Pink Ivy for the kids, who always enjoy the artistry provided by the talented Pink Ivy team.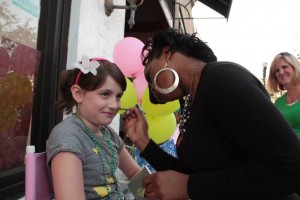 Pink Ivy Parties is so much more than merely artistic  face painters; they are a team of experience party and event planners with special features like pageant training, etiquette classes and more.  Check out the Pink Ivy Parties website for the full scoop on the scope of their business!  They've painted dozens of faces during the past six months of 'Affair' and kids (and a few grown ups too) just love it.  What child wouldn't love their own face painter at a birthday party?  Just a thought!
The many wine and cheese tastings held in the and shops throughout the Square gave people a chance to see what's new for spring in fashion in the boutiques.  Restaurants like Taverna were serving tables full of diners on their patio, as were others with sidewalk seating. It was the perfect night for an outdoor meal, and most restaurants offered some sort of special for the Affair on the Square.
San Marco Bookstore is a special place for any book lover – and having a locally owned,  independent bookstore is a treasure for any community.  William Matt Mahoney – yes, a local author,  was signing his book Of Time and Honored Distance, a lovely volume of poems, outdoors, in front of the shop.
People who love books love chatting with authors, and the San Marco Bookstore regularly features local authors who've often written about  the local community.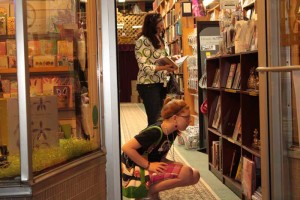 They have a great selection of local and regional books; vintage editions, and all the current titles.   If they don't happen to carry something you want, they can hunt down the rare or obscure for you.  They know their readers.  This store also carries the broadest selection of Papyrus cards between Atlanta and Orlando!  If you haven't seen a Papyrus card, you're in for a treat –  they're mini works-of-art.  San Marco Bookstore is always one of the wine tasting stops during the the 'Affair'.
There were tiny tots dancing in front of the gazebo to the music of the Little Green Men in that adorably clumsy way  only the two-year-old crowd can pull off with such a lack of self-consciousness. Their smiling parents and onlookers enjoyed  the cute display of toddlers racing and dancing around the park, responding to the music with no rhythm whatsoever.  There was a 'fishing for clover' game set up in front of Woodside Lane and SMart Gallery and the little ones had a great time there, too.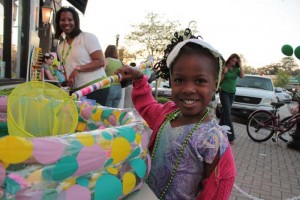 During Affair in the Square the music can always be heard up and down the block,  and the gazebo was festooned with green swaths of ribbon winding around its pillars.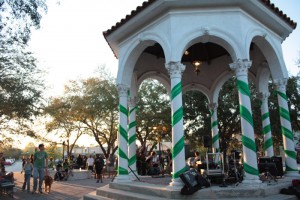 The white Chinese lanterns were strung up along the sidewalk trees as usual, with bunches of green balloons at intervals: a nod to St. Patrick's Day.   The Little Green Men, who actually aren't so little, were an overall crowd pleaser from toddlers to adults. Great music sets the tone, lifts the spirits, puts everyone into a great mood. Families, couples without kids,  groups of friends enjoying dinner al fresco,  or people just making their way around the Square, browsing, talking, and having their passports stamped at each wine tasting table, there's something special about the neighborhood get-together in the town square. And there's always a winner of a San Marco shopping spree drawn from the collection of completed passports!
Our off-Square merchants are also always part of the 'Affair', with tables for their businesses arranged together along the sidewalk.  This month we welcomed a new member to the merchants association, Anytime Fitness. Their trainers were available to answer questions and talk about membership options and incentives.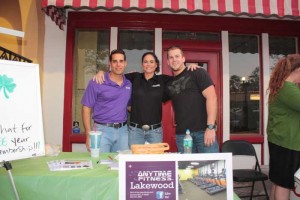 Dance Trance, whose studio was recently featured in Southern Living magazine, was also on hand with their table display.  For people who want to start a fitness program,  or perhaps looking to change things up, there are so many options right here at home.  Sarah Marie Johnson of Bistro AIX was pouring the wine and sharing her knowledge with those who stopped for a taste.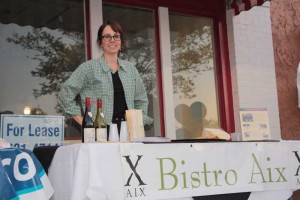 Dan Harris had his Photo Booth To Go set up on the sidewalk, offering free photos for all.  These old-school photo booths with today's digital technology are trending now, and are a great idea to rent for private parties.  
This is the second time Dan's offered the Photo Booth To Go for 'Affair' guests. It's a lot of fun for those being photographed, and the audience gathered outside the booth, watching the experience on a closed-circuit TV!   Dan offers a table of props for those who want to vamp it up.  The end result – two strips of the four poses are printed immediately, in color, with digital perfection, and make a terrific souvenir for the guests who took advantage of it.
This month's Affair in the Square marks six months of San Marco's newest outdoor event that everyone can enjoy.  Jot it down now:  it's the third Thursday of every month, and not just for San Marconians.  Call your friends who live in other parts of town.  Affair in the Square is a  'go local' event for all of Jacksonville.