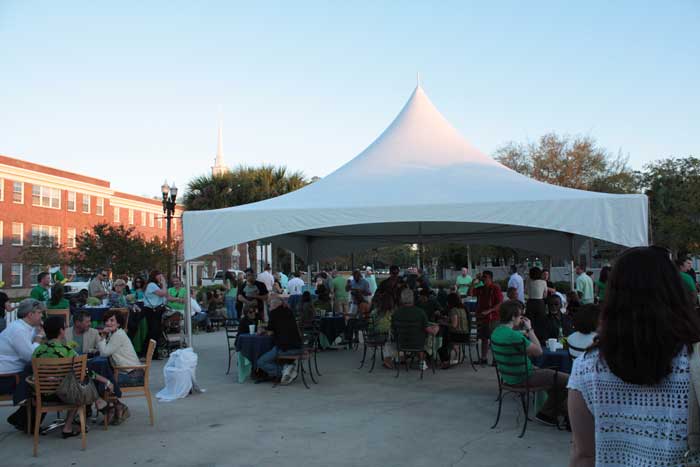 Take Away Gourmet, – TAG – San Marco Chef Matthew Medure's answer to providing fine food you can take home (and cook there, or pick it up ready-made) or dine in, all at an affordable price, makes it easy for busy families (or couples, friends…anyone!) to enjoy  meals together – and leave the cooking to the professionals.  The food is excellent, and well-priced.  The food bar inside TAG offers an 'all you can eat' experience for just $12.50, or a pay-by-the-pound for $8.50.
Of course, TAG will also cater your parties or events; just visit Take Away Gourmet's website here, and  peruse their menu for the Foodbar – dining in or taking out, along with their full catering menu replete with deliciously enticing food photography that might just have you planning a party before you leave the site.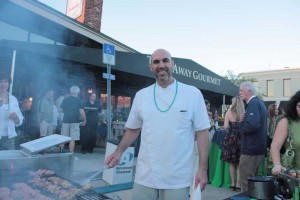 A few times a year, Chef Matthew throws a block party, and everyone's invited.  The TAG team grills up some meat and chicken, smoking hot and fresh, and puts together a lovely array of food and drink for guests, who gather outside in TAG's parking lot, seating all about.  These block parties draw everyone from groups of friends,  families, and couples.  It's a neighborhood thing, but of course, anyone from anywhere in town is welcome!   Chef Matthew is outside taking his turn at the grill and mingling with his guests.  
It was a pretty spring evening, and the block party was in full swing by 6:30pm.  A large, white tent top covered part of the seating area, and people mingled everywhere about the parking lot cum party space, having a great time.
This spring's TAG block party happened to coincide with both St. Patrick's Day and San Marco's Affair in the Square.  The more the merrier – the TAG bash was a great success.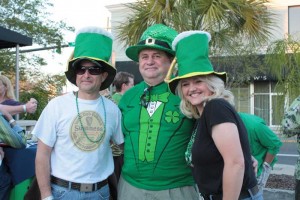 A gorgeous spring evening, it was come as you are and everyone is welcome.  The Take Away Gourmet restaurant/take out experience has been great for those who live and work here.  A brilliant idea by Chef Matthew, whose elegant Matthew's restaurant is just across the street, Take Away Gourmet is a different  approach dining-on-the-go.  Their block parties always have a great turnout, and this last one was no exception.  People love their locally-owned and locally-operated businesses.  These two restaurants have their own distinct niche, but have in common the talented and community-minded culinary entrepreneur Matthew Medure.  And he knows how to throw a great block party!