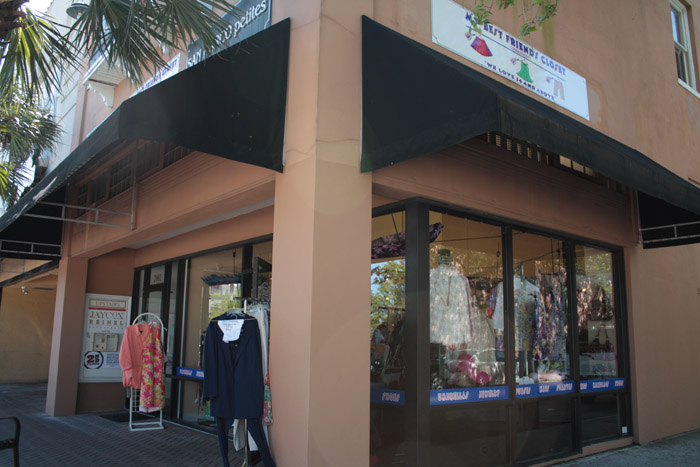 Has it really been a year since Sandy Meyers, former owner of Edwards of San Marco, opened her new shop, My Best Friend's Closet?
Yes, it has, and the shop is thriving.  My Best Friend's closet is an upscale consignment store with a special affinity for sizes 14 and above.  Sandy accepts gently used clothing from the better lines, such as St. John Knit, Talbots, Chicos, Avenue's, Coldwater Creek, Lane Bryant, Sag Harbor, and Jessica Howard.  From casual to dressy to evening wear and formal, the store is well-stocked with beautiful clothes at an affordable price.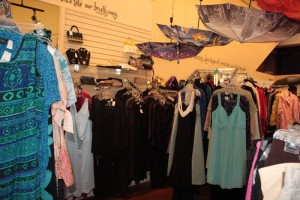 Women love accessories, too, and My Best Friend's Closet has got them.  You'll find bags from Dooney & Burke, Coach, and Cole Haan, along with a terrific selection of new jewelry, purses, hats, and scarves.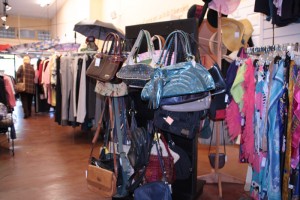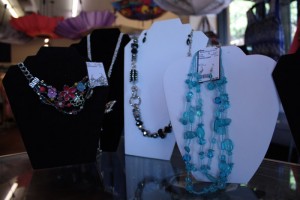 There's a lot to look at in this shop.  Sandy loves umbrellas, and has new ones in every print and pattern and color you can imagine. When the rainy season is upon us, a signature umbrella will make it a lot more fun to be out in the rain!  
I have a personal favorite; but there is truly an umbrella for everyone here.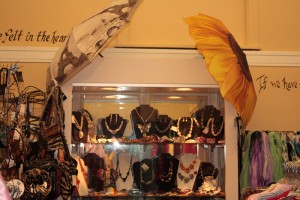 Regardless of your clothing size, there is truly something for every woman in this shop.  The costume jewelry is on-trend, fun, and affordable.  Everywhere you look, there is something to see – from the racks full of beautiful clothing and bags, to the new jewelry atop all the flat surfaces and in display cases; hats and scarves…and umbrellas galore, suspended from the ceiling!
Sandy's beloved dog who some may remember from Edward's, is with her in the shop each day, older now, and content to rest quietly on his soft bed in an out-of-the-way corner.
Sandy has is well-known in San Marco, having owned Edwards for several years.  She sold that store in order to assist her elderly parents, and once things were settled with them, she was back on the Square!  Last April, Sandy opened My Best Friend's Closet, and involved in a whole new retail adventure.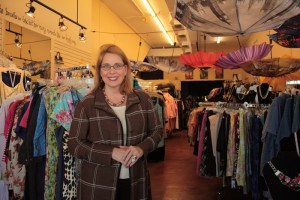 This is a fun shop to visit.  Merchandise is well-organized and the shop is fully stocked.  Local women provide the shop with their clothing, sold on consignment, so it's a win/win for everyone.
Sandy Meyers is active in the community, and with the San Marco Merchants Association.  Congratulations, Sandy, on a fine first year.  We hope to see My Best Friend's Closet occupying that corner in the Square for many years.