Celebrating its one year anniversary,  the charming Bou'Tique 3:16 shop is located in the St. Nicholas Mudville Grille Plaza  just minutes off the Square, and is an integral part of our shopping community.
Owner Tonya Robinson has done an amazing job of creating a boutique with a variety of affordable couture-like clothes – from dresses to tops and skirts – and premium denim, finished with unique accessories and shoes, all priced at under $100.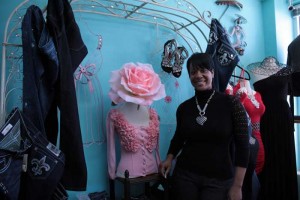 The boutique is definitely a place that has an upscale feel; its walls are painted in saturated colors and  decorated with ornate mirrors and  unique frames; a comfy chair and  antique chest of drawers evoke a homey yet chic interior.  Mannequin frames are adorned with tops, dresses and accessories.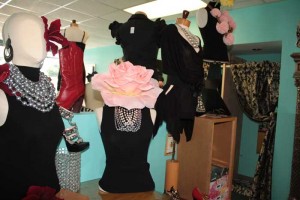 The vibe is eclectic, appealing, and invites one to spend some time and really browse. There's so much to see, and it's designed with such flair, Tonya has created a charming enclave of fashion that suits most any woman who enjoys wearing modern clothing with an affordable price tag.
An off-Square San Marco merchant, Tonya is offering 15% off a shopper's first purchase to celebrate the Bou'Tique's one year anniversary.  She's also happy to arrange private shopping parties of six guests or more.  This would be a great place for such a party, as there's so much to see and surely, something for everyone regardless of one's personal style.
Tonya named her shop Bou'Tique 3:16 from the well-known Bible verse John 3:16, a cornerstone of the Christian faith.  Tonya explains that the verse gives her inspiration to succeed in business; and helps her to consider what another person might be going through when she meets them. Her demeanor simply reflects a kindness of spirit.  By no means a religious shop, Tonya simply interacts with her guests in a friendly way,  to help them find something special for themselves or a gift for someone else.  The ambiance  is all about fashion and style from the moment one enters the shop.
What's so great about the shops in San Marco is that each one has its distinctive style, which makes shopping both on, and off the Square such a broad experience.  With shops like ours, including Bou'Tique 3:16, there's really no need to venture away from home for peerless shopping experiences.  And by all means: if you aren't from the San Marco area, you need to check it out here, and bring your friends along too.  Unique boutique shopping is right here, and off the Square at Bou'Tique 3:16.
Located at 3113 Beach Blvd. – (904) 683-9096