TPC weekend is here and if you are like me you have nothing to wear. So I turned to the experts at Olive and Rosie True to pull together the ultimate TPC outfit.
Caroline at Olive recommended Alice & Trixie's Celine dress. the bright pink and blue pattern is perfect for a day event. It is sleeveless and short, but not too short, ideal for the humid weather. And a bonus shift dresses are flattering for every body type.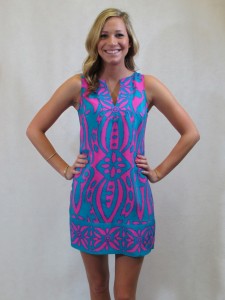 Crystal, manager of Rosie True, recommended a Michael Stars tank and Bill Blues Bermuda shorts topped off with a Michael Stars cowboy hat to keep the sun off your face. Michael Stars tanks come in a variety of colors and styles so you can really personalize this look to your style. And the Billy Blues Bermuda shorts just came in today so you might be the only one at TPC wearing them.
Golf is great and all but isn't the true fun of TPC partying at the clubhouse and the tents? With these looks you'll sure to be ready for watching the golf, or more importantly, enjoying the party.