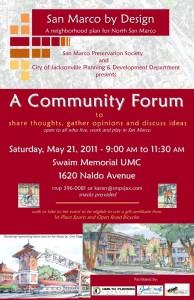 This week has been all about voicing your opinion and making a difference in our community. First the SMPS general membership meeting, then the mayoral election and now the North San Marco planning meeting.
San Marco by Design, the project that is creating a plan for north San Marco, is hosting a neighborhood forum this Saturday. The forum is open to all who live and work in San Marco. It is your opportunity to come discuss and share ideas of visions for north San Marco. The ultimate goal is to transform this fragmented part of our neighborhood into a walkable community.
San Marco Preservation Society and the City of Jacksonville Planning and Development Department are the organizations behind the effort. They want to hear from the people who are in San Marco before creating a plan. If you have ideas or what to hear the ideas being considered, attend the forum this Saturday.
San Marco by Design Neighborhood Forum
Saturday, May 21 from 9:30 a.m. – 11:00 a.m.
Swain Memorial UMC, 1620 Naldo Avenue
RSVP to 396.0081 or karen@smpsjax.com