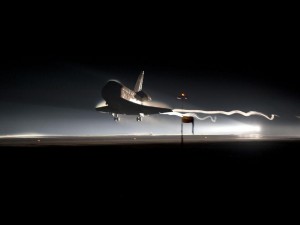 Today is the day, the end of the shuttle program. A thirty year program that has captivated the world and exposed us all to what lies beyond earth.
Locally, early birds and space enthusiasts alike gathered at MOSH to watch the Atlantis land for the final time. The planetarium opened at 5:30 this morning allowing visitors to watch pre-landing coverage as well as the historic landing and post-landing coverage. The landing was on schedule and as planned.
The shuttles might be grounded but MOSH's planetarium continues exploration with daily shows include concerts, documentaries, and movies for all ages. The full schedule is online. Check it out and continue to explore space with your own family.