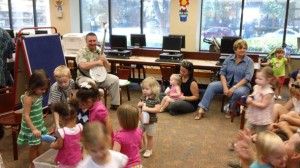 If you come to the San Marco Library on most Wednesday mornings with your preschool toddler, you might stop and listened to the pre-school story time.  And you might sing some songs with Al Poindexter.
Al Poindexter has been playing folk music and banjo tunes, and old timey blues and his original songs for the past several years around Jacksonville and north Florida.
Just this summer he's been playing a lot for the kids at libraries all over town, but mostly at the San Marco Branch.  He has played almost a dozen concerts at as many libraries around Jacksonville.
"I try to play traditional songs that are easy for kids to grasp" says Al, rather than play silly little kids songs.  I play the banjo and guitar but sometimes I play an old-timey gourd banjo or a bottleneck steel resonator guitar.  I tell the kids about the old ways the banjos and guitars were played.
It's educational but mostly sing-along.   "I use the old 'call and response' technique so everyone can sing just about all the songs with me even though they don't know the words." Says Al.
Al will be performing for the children at the Balis Community Center Program this week.  The show is just for the kids enrolled in that program.  The Balis Community Center is located next door to the San Marco Library.
Al has played his music  under the Gazebo in San Marco and has also played there with the contra dance band Meridian.
Al has played almost every Thursday night at the Three Layers Café in Springfield.  He warms up the crowd with a 40 minute set, sometimes backed by Eric Wendorf on harmonica.  Then the mic is open for 15 minute sets for folks that sing up in advance.
Al has been seen performing with his backup band "River Rise" at the Riverside Arts Market and The Florida Folk Festival in White Springs and many other festivals and events around north Florida.
Al's website is Alpoindexterfolk.com