September 1, 2011
The sun drifted slowly over the horizon Tuesday morning, welcoming hundreds to the Julia Landon PTSA Donuts with Dads breakfast celebration. Those first rays of September carried with them the smell of hot coffee and powdered sugar to be shared with family and school community. The small cafeteria quickly filled to capacity with sets of fathers, sons and daughters.
Julia Landon has a very active PTSA. Last year, they decided to ask the students what type of event they would most enjoy. The kids said they wanted to share more activities with their parents. "Donuts with Dads" was the first implementation of that concept.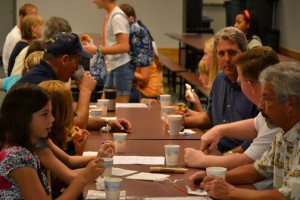 Conversation was lively as paternal units clustered around the low, middle-school-sized cafeteria tables. Something as simple and straightforward as a donut with Dad in the morning can hold tremendous meaning. Men took time out of their busy mornings to connect with their children, to gain insight into their school life, and to eat where they eat each day.
30 dozen donuts were eaten. 12 gallons of juice and 8 gallons of coffee were served. Over 140 Dads got to share a simple moment with their sons and daughters. It was a nice way to start the month.