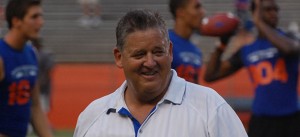 Florida ended the preseason with another solid effort against UAB.  The result was an easier-than-expected shutout of the Blazers, but there is a lot for the defense to continue to work on and improve.  UAB did hit some longer pass plays, one TD being called back by a penalty.  The young secondary has to improve communication and recognition of certain patterns.  The flats are still a little soft, but that may be given to UT this week to prevent big plays and to try and make the Vols impatient.
It looks like Weis wanted the running game to get some extra reps in the second half, as there were only 2 passes after halftime.  The OL started to show some cohesion on some pulling and trap blocks, opening up some interior lanes.  This could help keep Tennessee's offense off the field and wear down a suspect UT defense.
The Gator front seven controlled the action most of the night.  Mike Gillislee came out of witness protection to remind folks that he is a quality RB, and is Florida's best inside runner.  Trey Burton also started to show some flashes of what Weis will have him do all year — a jack-of-all-trades as an H-back.
Now the real season starts with the Volunteers coming to the Swamp, and talking a lot of trash for a sorry-ass team for the past 5 seasons.  They have 3 weapons on offense — QB Tyler Bray, and WRs Justin Hunter and Da'Rick Rogers, holdovers from the Lame Kiffin debacle.  On paper this would seem to be a big advantage for UT, as the Gator secondary is young and untested.  However, the Vols have not shown a real running game yet, and their OL has no idea what is about to hit them.  The Gators get Sharrif Floyd back from suspension, joining an already strong DL that will look to punish Bray and let him know Florida is not Montana or Cincinnati, where he had all day to pick out receivers.
Coach Muschamp and Coach Quinn will definitely have some new looks and schemes ready to confuse Bray, despite an inexperienced secondary.  I really don't expect an inordinate amount of blitzing, as I think the DL can control the LOS and get pressure on the QB without too much help.  I also expect to see a lot of new looks, such as more 3-4 alignments, with extra rushers coming from different angles.  The LBs need to clean up the flats, so the secondary can concentrate on preventing big plays and busted assignments.
I get the feeling Charlie Weis is going to pound the running game to wear down a mediocre Tennessee front seven, and to control the clock and tempo.  There will be some new formations and pass plays that he has not shown yet, but the Gator OL should be able to control the action.  Once again, John Brantley will be asked to manage the game and hit the occasional big play if there, while limiting turnovers.  Time for him and the WRs to step up their level of play, starting this week.
Volsheimers is once again in full effect, and once again Florida reminds Tennessee that they are the better team.
Prediction – Florida 31    Tennessee 21