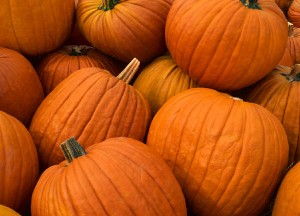 A fall tradition in San Marco continued this past weekend as Southside United Methodist Church (SUMC) received their first shipment of pumpkins for the Pumpkin Patch!  The  program serves as a fundraiser for youth programs at the church.  Be sure to stop by and pick out your pumpkin today!
Here is a reprint of additional information from www.southsidemethodist.org
"Each year, the Great Pumpkin rises out of the pumpkin patch that he thinks is the most sincere. He's got to pick this one. He's got to. I don't see how a pumpkin patch can be more sincere than this one."
-Linus, It's the Great Pumpkin, Charlie Brown
Are you ready for The Great Pumpkin…Patch?  Do need an unbeatable recipe?  We will have fantastic cookbooks for sale.  Do you have children who need to unleash some excess energy?  We will have a bounce slide.  Do you need a pumpkin of superior quality & appearance?  We will have the most spectacular youth this side of the Mason-Dixon Line ready to assist you in purchasing one!  Are you a youth who would like to earn some money for your youth account?  We will have MANY openings for you to work the patch.  We even have gift cards for sale that you can give your neighbor who brings in your garbage cans! If we don't have it, you don't want it or you don't need it.  Are you with me?  Trust me folks, you don't want to miss any of this!  Check out these important patch dates & events:
October 1st Pumpkins arrive in the morning! All are welcome to participate: children, neighbors, and pets of moderate intelligence.  (My dog is obviously disqualified.)  Please join the fun because we need everyone!
October 8th 5K Pumpkin Run, Battle of the Bands, and Cookout Party in the evening
October 15th 2nd pumpkin unloading in the morning
October 23rd Fall Festival (games, excitement, and fellowship take over SUMC)
Does it get any better than that?
Exactly.  I didn't think so either.
Questions, comments, concerns, and thoughts on the national debt should be directed to:jennifer@beemmail.com
Compliments, happy thoughts, and appreciation of all forms should be directed to: a.franks@southsidemethodist.org.
Sincerely,
Jen Harbin,
Pumpkin Patch Enthusiast
"Whatever you do, work heartily, as for the Lord and not for men, knowing that from the Lord you will receive the inheritance as your reward. You are serving the Lord Christ."
-Colossians 3:24