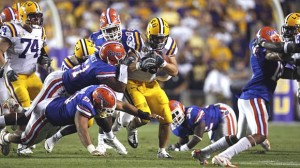 What started as a promising effort turned into an ugly affair in the second half, as Florida was worn down and eventually beaten up by Alabama in the Swamp.
We're all disappointed, and many are pissed. Imagine how the coaches and players feel.
It will be interesting to see how the experience of this staff, much of it from the NFL, transfers to how they get the players to re-focus and prepare for the next game. Yeah, the QB is out, but the next guy steps in and you move on.
Florida has enough talent and playmakers to stay with Bama at home, but the loss of Brantley was way too much for the offense to overcome. Coach Weis had an effective plan in place, but losing Brantley scuttled that plan, and Driskel was overmatched in a game of this magnitude against a strong opponent. The passing scheme was effective the entire first half, and the Gators, while getting little to nothing from the running game, were still moving the ball through the air. The pass protection was actually pretty good, but the OL seemed to be overpowered when trying to block man for man in the running game. An unlucky interception for a defensive TD really changed the momentum in the 2nd quarter, and the Gators never really recovered. There were some nice individual efforts given by Debose and Thompson, but not enough positive plays from the rest of the supporting cast.
Biggest disappointment? Zero running game. Biggest surprise? No swing passes to see if Rainey and Demps could make something happen in space.  Another huge bad break is the additional ankle injury to Driskel late, meaning Jacoby Brissett has to get thrown into the fire.
The Florida DL was, quite frankly, a disappointment. The tackles simply did not get penetration often enough to keep the Tide offense off-schedule on first down, and the lack of top-tier DE play was sorely apparent, as Bama had no trouble setting the edge in the run game all night. The LB play was pretty much MIA, as Bostic and Jenkins simply were whipped and overpowered. The secondary did a good job overall, but never was truly tested as the Bama running attack dictated the action most of the game. Again, some flashes from individuals like Easley and Howard, but no consistency, and lack of support from the rest of the defense.
No rest for the weary, as the Gators travel to death Valley to face a solid Tiger team with a great defense of it's own. LSU has a fast DL that can occasionally be gashed in the run game, but hasn't really been challenged that way since their opener against Oregon. They start 3 senior LBs, and the best playmaking secondary in the country, led by CBs Tyrann Mathieu, Morris Claiborne, and safety Brandon Taylor. Not as physically large as Alabama, but probably a little quicker with loads of depth.
LSU's offense is pretty vanilla with Jarrett Lee at QB, preferring to pound away with a strong running game featuring a deep rotation of RBs led by Spencer Ware and Michael Ford, with the occasional downfield throw when the defense has to put 8 in the box. The Tigers actually have some dangerous WRs in Rueben Randle, Odell Beckham, and Russell Shepard, and hopefully they remain underutilized this week.
L$U has proven it's mettle this season already, and will probably have to take the Gators a little lightly for Florida to have any chance to steal a win, especially given the potential offensive constraints. The real grind of an SEC season starts to take shape with this game, and I don't believe the Gators have enough experience and playmakers on offense to give Driskel enough help to win.
It's hard to anticipate what kind of game plan to expect. Coach Weis will divide a plan for Brissett's strengths, but he simply has zero experience right now. Driskel at least has seen some live action, and this is going to be very interesting to see how Brissett reacts to such a huge scene.  The OL has to nut up and provide some running room for Rainey and Demps. One thing I can venture a guess about is the return of the swing pass early on to try and make some big plays and loosen up the Tiger defense.
The Gator defense will again be tested in big-boy football, as they can expect a steady diet of power running all afternoon. I'm sure Coaches Muschamp and Quinn will have some Bama tape to provide incentive for a better effort, and I expect one. But unless the Florida offense somehow sustains some drives to give this unit a rest, they will likely again wear down in the second half.
Probably a handful of fragile psyches right now, but this is the SEC, and it's a "tough-ass league", as described by Urban Meyer after he lost at Auburn in 2006 with a better team.
Charlie Weis is a smart guy, and will give Brissett a game plan he can execute with success. Now, will that translate to a win?  Not unless the defense is lights-out.  But we shall see.
It is tremendously difficult, especially with college guys, to move on from such a tough loss, especially when you're thrown right back into the Lion's (Tiger's) Den the very next week with a new QB and potential scheme changes. Lots of turmoil and disappointment right now. I think we have the staff, with Muschamp, Weis, Quinn, etc., to get these kids ready to compete.
Of course, I could be wrong.
Gonna be an interesting next 4 weeks……
Prediction – L$U 30 Florida 13