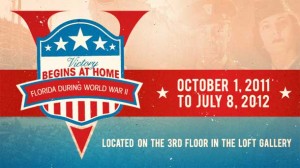 What: Veterans Day
When: Friday, November 11 from 10 a.m. to 6 p.m.
Where: MOSH
1025 Museum Circle
Details: The Museum of Science & History will present a day of programming in honor of Veterans Day.  The highlight of the day will be the grand opening of a new exhibit called Victory at Home: Florida During World War II.  The exhibit details the legacy of Florida's participation in the war and brings the homefront to life through first-hand accounts and rare WWII-era objects from the collections of MOSH, the Jacksonville Historical Society and Guest Curator Stephen Cargile.
Another featured event is the showing of a documentary called Prisoners of War: Stolen Freedom.  The production will play in the Bryan-Gooding Planetarium at 3:45 p.m.  A ceremony to remember veterans that made the ultimate sacrifice for our country will immediately follow the program.  Throughout the day, WWII model displays will be on exhibit and at scheduled times, visitors can experience an uplifting Cosmic Concert called Laser Spirit, a medley of patriotic tunes as laser lights cover the planetarium's 60-foot dome.
To view a complete schedule of the day's activities, visit http://themosh.org/victory.html.
Admission: FREE for active and retired military; FREE for children who present a Jacksonville Public Library card; and $5 for everyone else!
The Museum of Science & History (MOSH) is located at 1025 Museum Circle near Friendship Park. MOSH, first chartered in 1941, inspires the joy of lifelong learning by bringing to life the sciences and regional history. Museum hours are 10 a.m. to 5 p.m. Monday – Thursday; 10 a.m. to 8 p.m. Friday; 10 a.m. to 6 p.m. Saturday; and 1 to 6 p.m. Sunday.  Admission is $10 for adults and $8 for military, seniors, and children 3 through 12.  There is no admission fee for children 2 and under or museum members. Admission is $5 on Fridays.