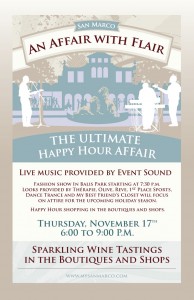 "An Affair With Flair" this Thursday in San Marco Square from 6-9 p.m!
Fashion Show
Boutiques from San Marco will be featured in a fashion show in Balis Park.  The show will begin at 7:30 p.m. and showcase this holiday season's must-haves!
Wine Tasting
Don't worry!  It's still an Affair for everyone!  For those of you that just want to enjoy a glass of wine, the shops and boutiques will be featuring sparkling wines this month to compliment the fashions!  Get your passports at the shops or outside the San Marco Theater!
Music
Event Sound will be rockin' the Square live from Balis Park!
Gift Basket Prize
Complete your passport for a chance to win the San Marco gift basket!  Turn it in at Taverna or The Grotto.
Book Signings
Dottie Fletcher and Eileen Erikson will be signing their books, Jacksonville Remembered and 2 children's titles , respectively, at the San Marco Bookstore!