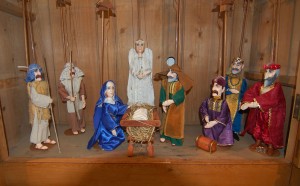 "No Room at the Inn" is a community event that displays a vast array of nativity scenes, or "creches", collected from around the world. People in the community are invited to participate by displaying their nativities with us at "No Room at the Inn." Nativities can be family friendly original creations made by the people of San Marco from various and unique media as well as nativities collected from places around the world. "No Room at the Inn" will be on display at Woodside Lane in San Marco Square from December 3 – December 21.
Residents can share their nativities/creches by contacting Cindy Graves at cindyg@ssbc.org or 904-396-6633 ext. 231, or 904-704-0970. They can deliver their creches to the church Monday – Thursday between 8;00am and 5:00pm no later than Wednesday, November 30. Of course, Cindy will work with people if special arrangements for delivery times need to be made.
.
.
Here are a few images from last year's event!
[nggallery id=7]