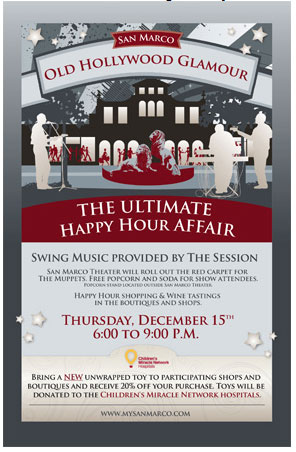 It's third Thursday!  That means all roads lead to San Marco.  This month's theme is titled Old Hollywood Glamour – for a fun theme to get everyone in the entertaining and shopping.
This month's Affair will include:
Swing music in Balis Park provided by The Sessions
San Marco Theater will be rolling out the red carpet for The Muppets with free popcorn and sodas for all attendees.
The boutiques and shops will be open late offering complimentary wine tastings and the restaurants and bars will all be offering happy hour specials from 6:00-9:00 PM.
Also, stores will be collecting toys to donate to the Children's Miracle Network.