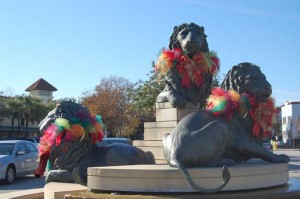 San Marco has a great selection of Holiday gifts and the shops are conveniently located.  Extra parking is always available behind the fire station.  Just a few of the last minute ideas are noted below:
-Dance Trance Fitness – A great way to get the best gift ever without standing in line is a Dance Trance Gift card.  Purchase in any amount and give a healthy new start for 2012!!
Just go to: http://www.dancetrancefitness.com/dancetrancejax
-San Marco Bookstore – The latest printing of  "The Southbank Sojourn" is available just in time for Christmas!  You'll also find that they have an extensive collection of Jacksonville History, Leather Bound Classics, Cookbooks, Travel Guides, and much more.  Special Holiday hours include Friday the 23rd til 6pm and Saturday, Christmas Eve, from 10am until 2pm.
-Therapie has brands like Ella Moss, Splendid, French Connection, Hanky Panky, Sanctuary and innovative designers you can't find just anywhere… Great choices that will leave you looking great for the Holidays and wanting more.
At My Best Friends Closet…  They have UMBRELLAS… $24.95 They open AND close with a push of a button, and pretty!
Don't forget to visit The Wardroom, Write Touch, Rev, 1st Place Sports, Peterbrooke Chocolatier, and Olive for even more great holiday gift ideas!
Merry Christmas! and Happy Holidays to all!