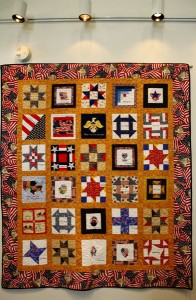 JACKSONVILLE, Fla. – A collection of nine quilts that honor Florida's Fallen Heroes is currently on display in the Wells Fargo Community Conference Room at the Museum of Science & History (MOSH).
Every quilt has 30 blocks, each containing the name of a fallen service member from Florida who lost their life while serving in Iraq or Afghanistan.  Of the 270 fallen Florida service men and women featured on the quilts, 23 are local veterans, including 16 from Jacksonville, three from Orange Park, two from St. Augustine and two from Middleburg. Their positions range from Marine Colonel to Navy Petty Officer.
The Florida Fallen Heroes Quilt Project was created by Linda Fliss of Titusville, Florida in 2005 to create a mobile memorial. After visiting numerous cities throughout the state, the entire collection will be donated to MOSH after the exhibit closes on July 22, 2012. Two additional quilts, still in creation, are among the collection that will become part of MOSH's permanent collection.
The Museum of Science & History (MOSH) is located at 1025 Museum Circle near Friendship Fountain Park. MOSH, first chartered in 1941, inspires the joy of lifelong learning by bringing to life the sciences and regional history. Museum hours are 10 a.m. to 5 p.m. Monday – Thursday; 10 a.m. to 8 p.m. Friday; 10 a.m. to 6 p.m. Saturday; and 1 to 6 p.m. Sunday.  Admission is $10 for adults and $8 for active and retired military, seniors and children ages 3 through 12.  There is no admission fee for children 2 and under or museum members. Admission is $5 on Fridays.