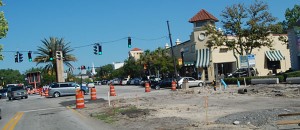 JACKSONVILLE, Fla., May 29, 2012 – Construction on the southbound lanes of San Marco Boulevard from Riviera Street to Naldo Avenue should be complete and open for traffic by Saturday, June 9. Construction will then begin on the northbound lanes of San Marco Boulevard from Riviera Street to Naldo Avenue. This phase should be complete by Oct. 31.
The traffic plan during this phase is as follows:
San Marco Boulevard northbound 

through

traffic will be detoured to Hendricks
Avenue and LaSalle Street.
San Marco Boulevard northbound 

local

traffic will be allowed to make a U-turn at Naldo Avenue.
Residents within the construction zone will be provided temporary access during construction.
All construction will be put on hold and roads will be open and accessible during the 2012 holiday season, Nov. 1 to Jan. 1, 2013, to ensure uninhibited access to the area's merchants and residents. The final phase of the project, which includes the Naldo roundabout, will begin approximately Jan. 2, 2013.
The San Marco Streetscape project, which began in Sept. 2010, spans from Prudential Drive to Naldo Avenue on San Marco Boulevard. This beautification and improvement project is a continuation of the San Marco Town Center. Improvements include: historic streetlights and signage; brick pavers and crosswalk accents; streetscape components such as trash receptacles and benches; roadway re-paving; parking space re-striping; new curbs and gutters; new drainage inlets; brick-accented sidewalks; upgraded mast arm traffic signals; and roundabouts at both Naldo and Landon streets. It also includes JEA utility and sewer improvement work.
For overall schedule, traffic plans and maps please visit www.sanmarcoconstruction.com.