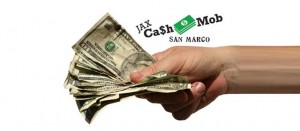 The Jax Cash Mob is invading San Marco Square Saturday June 30th with a band of mobbers who all want to shop local. Take our community's economic future in your hands and demonstrate your support for our local small business owners. When we buy local, our community gets more for it's money. Nearly 70% of the money spent at locally-owned small businesses stays within our local economy.
Pizza Palace is the meetup spot where at 11AM the cash mob site will be unveiled. Mobbers will then head to the location and each spend between $10 and $20 as a demonstration of your support to the buy local movement. Afterwards, post-mob drinks and socializing will be held at Pizza Palace at 12:30pm. Mobbers are free to discover the many wonderful stores that make up the San Marco Square business district.
What is a cash mob?
A cash mob is a group of people who assemble at a local business and all buy items from that business. The purpose of these mobs is to support both the local businesses and the overall community. Think of the cash mob as a "shop local" flash mob created to spur local economic stimulus! The ten dollars demonstrates your personal commitment and effort to support a local independent retailer while having fun doing it as a part of a larger group. Cash mobs also have a social and community-building component as the interaction between community-minded individuals that meet at these events has a multiplier effect that breeds new projects and contacts.
How do I participate?
Here are the rules:
1. Show up at Pizza Palance at 11AM. Pizza Palace is located at 1959 San Marco Blvd.
2. Spend $10-$20 at a local store (we'll reveal the store at 1pm)
3. Meet three new people
Why cash mob?
When we buy local, from local businesspeople, wealth is both created and retained in the community. Think of what an impact we can all have on our community by simply choosing to shop local. We each do a little. We all do a lot.