Source: LoriBoyer.org
Artificial Reefs proposed for St. Johns River off San Marco
The City of Jacksonville, through the Housing and Neighborhoods Department, has applied for permits to construct two artificial reefs in the St Johns River off San Marco. I learned about these permits when I attended my first Waterways Commission meeting in August. Council President Bishop appointed me to that Commission for this Council year. Apparently the reefs have been under consideration for some time but I was not aware of them. Site 2 is located 483 feet off Riverfront Park. I have worked with Kelly Boree in the Parks Department in the past concerning the inappropriate behaviors of some of the fisherman who frequent Riverfront Park, as well as the parking problems they create for area residents. Ms. Boree was also unaware that the reefs would have any impact on area parks. Apparently Ms. Boree, and members of the Commission understood the reefs to be enhancements to fishing for boaters. However, the actual applications contain the following language:
"Expected usage
A. Boats
Currents also influence the number of boats that can fish a reef at one time. Since the artificial reef site is a relatively small footprint, and due to the river currents, it is expected that 4-6 boats can utilize the site at any one time.
B. Shore-based fishing
Directly east, approx. 483 ft. is a public park, quite popular for fishing.  The construction of this reef is expected to enhance shore-based angling at Riverfront Park located in the San Marco area of Jacksonville."
The second site is located offshore from Greenscape Celebration Pocket Park.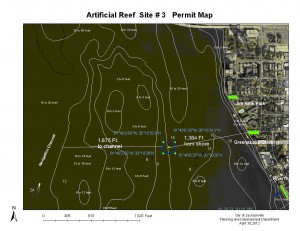 I have contacted Ms. Boree and the Mayor's office to dicuss these applications and the impact on Riverfront Park. Expect an update at the September 10 Town Meeting.  -LB
www.loriboyer.org