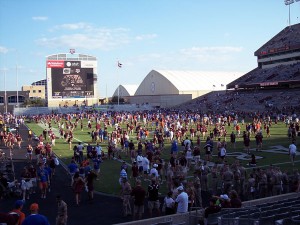 A Tale of Two Halves
There were a lot of Gator fans out on the ledge after the 1st half ended in Aggieland.  A shockingly poor defensive effort against a freshman QB playing his first game had many shaking their heads in disbelief, and perhaps the entire season was hanging in the balance.  However, cooler heads prevailed, with the coaching staff finally getting through to the defenders to play their assignments and how they had been coached, and suddenly the hammer fell on Texas A&M to the tune of 65 yards and zero points in the 2nd half.
College Station is one of the unique places in college football, with all the Aggie traditions on display – the yell leaders, the corps of cadets and cadet band, and a fan base that's one of the most loyal in the country.  Florida was able to overcome all of that and a poor first half, as the offense(!) actually held things together and put together two solid drives in the second half to get a much-needed win.
A lot of the discussion and analysis will be centered on the 8 sacks allowed, but only a few of those were poor protection – Jeff Driskel will learn to throw the ball away and start to check down to his secondary receivers as he gains experience.  Despite these bad plays, he exhibited a strong arm, some nice touch, and made some clutch plays with his legs.
Mike Gillislee played tough despite a strained groin, scoring twice and getting some tough yards in the red zone that simply weren't seen the past 2 years at RB.  Jordan Reed is a big factor at TE, and the WRs started to make some plays downfield just often enough to keep some drives going.  The O-Line is still suffering from some blown protections, and losing Chaz Green at RT for most of the second half hurt.  But the unit stuck together and made the difference in the last 20 minutes.
This was a huge confidence-builder for the team, and gives them momentum heading into another important road game at Tennessee.
Volsheimers is in full effect again, as the Tennessee players are all talking a big game and saying "it's their time".  Tyler Bray says he's ready to pick apart the Gator defense, and their defenders for some reason are bragging on themselves……I guess that comes from the confidence gained from beating two cupcakes so far this year, and after such a fine performance in the SEC the past 2 seasons.  The Vols still have no real running game, their O-Line is still suspect, and almost their entire defense is untested or inexperienced.  I'm sure the Gator coaching staff won't have to do too much motivating on their own – they'll let the Volunteers do that job for them.
There were a lot of injuries suffered against Texas A&M – the worst being the broken thumb for LB Jelani Jenkins (out 2-4 weeks) and the broken bone in the foot of CB Cody Riggs (out 4-6 weeks).  Tank Morrison and Jaylen Watkins, respectively, get their turn at bat, in Will Muschamp's "man down, man up" philosophy.  Tennessee's passing attack is very different from what Florida has faced so far, and it's time for the D-Line and LBs to make some big plays and punch Bray in the mouth a few times.  The Vol WRs are a good unit, and they will make some plays, though.
One of the best ways to keep Tennessee's passing game off the field is simple – control the clock on offense with a solid running game and timely completions by Driskel.  If Gillislee is hobbled or unable to play, Coach Pease will have to find a way to get some production out of Brown, Jones, and Hines.  It may not be pretty, but I expect a large dose of running plays, even if they aren't getting any big gains.  I still think the passing game will be mostly of the short, safe throw variety to get to manageable down and distance on 2nd and 3rd down……but I believe it's time to see the deep ball, and Andre Debose or someone else to get their chance to make a big play.  The Gator O-Line should be able to more than hold it's own against the Vol front seven.
It's all hands on deck for a second consecutive SEC opponent on the road trying to make a statement.  It's going to be a tough haul, as the 2012 Gators still are searching for a complete identity, but the confidence gained from last week should be a huge boost.  I expect Tennessee to come out with guns blazing, and wouldn't be surprised to see Florida down in the first half again…….but with the experience now to come back……and the experience of whipping the Volunteers 7 straight times.
Prediction – Florida 27    Tennessee 23