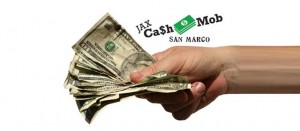 Jax Cash Mob officially renames 'Black Friday' as 'Local Friday' when the next Jax Cash Mob descends upon San Marco Square Friday November 23rd.  Participants will meet at 11AM outside Maple Street Biscuit Company located at 2004 San Marco Blvd.  At that time, we'll unveil the target store and each 'mobber' will spend $10-20 at this locally owned small business.  After the mob, participants will reconvene back at Maple Street Biscuit Company for lunch and socializing.
Studies show that if each household redirected just $100 of planned holiday shopping from chain stores to locally owned merchants, the local economic impact would reach approximately $10 million (Source: AIBA Economic Impact cast study – Dec 2002).  "Showing our support for our local entrepreneurs is especially important during the busy holiday shopping season.  Simply deciding to shop local first can have a tremendous impact on our local economy.  This city is our business, it's up to all of us to make it a place worth calling home," says Jax Cash Mob co-founder Mike Field.
What is a Cash Mob?
Well, it's a good kind of mob for your city.  A Cash Mob is a group of people who assemble at a local business for the purpose of buying items from that business, en masse.  Quite simply, a Cash Mob is a 'shop local' flash mob created to spur economic stimulus for a locally owned business.  The money spent demonstrates a personal commitment and effort to support a local independent retailer in a fun and exciting way.  These events not only provide a financial and morale boost to a local business owner, but they also give 'Mobbers' the opportunity to meet new people.
There are three simple rules for a Cash Mob:
1-Spend $10-20 at a local store
2-Meet three new people
3-HAVE FUN!
When we buy local, from local businesspeople, wealth is both created and retained in the community.  Studies show that for every $100 dollars spent at an independent business, the local economy gets a return of $68 as opposed to $43 when that same amount is spent at a national chain (http://www.independentwestand.org/spend_local/).  When we shop local, we are choosing to make an investment in our community and economy.
For more information, follow Jax Cash Mob on Facebook at www.facebook.com/JaxCashMob.
About Jax Cash Mob
Formed in April 2012, the Jax Cash Mob seeks to support locally owned businesses in Downtown and the In Town Neighborhoods of Avondale, Murray Hill, Riverside, San Marco and Springfield.  Combining the power of social media and camaraderie, Jax Cash Mob has held 8 'mobs' promoting the importance of shopping locally.