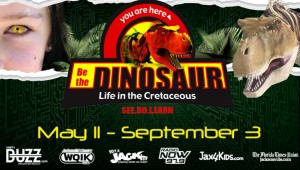 JACKSONVILLE, Fla. – Saturday, May 11 will mark opening day of the Museum of Science & History's summer exhibit, Be the Dinosaur: Life in the Cretaceous.  MOSH will celebrate with special dino-themed activities throughout the museum from 10 a.m. to 4 p.m.  Activities – and admission to Be the Dinosaur – are included with general museum admission.
Be the Dinosaur uses state-of-the-art video game technology to allow visitors to BE a dinosaur.   Applying lessons learned about different dinosaur species, their habitats, predators, and in some cases prey, visitors will embark on a quest for survival, seeking food, water, shelter and safety. Other activities include examining real fossils in the Field Station, climbing aboard the Dinosaur Safari Jeep, and using dinosaur models to role play on a 3-D Cretaceous landscape.
MOSH will present dinosaur-themed programming throughout the summer to give visitors an immersive experience.  Programming includes:
May 11 – Grand Opening of Be the Dinosaur – 10 a.m. to 4 p.m.
June 15 – Family Dino Day – 10 a.m. to 4 p.m.
June 17 – 21 – Dino-Tastic Summer Camp – 9 a.m. to 3 p.m.
July 13 – Dozing With Dinos – 6:30 p.m. to 7:30 a.m.
July 25 – MOSH After Dark: Walking With Tyrannosaurus Rex –  6 p.m.
August 17 – Fossil I.D. Day – 10 a.m. to 4 p.m.
For program descriptions, visit http://themosh.org/bethedino.html.
The Museum of Science & History (MOSH) is located at 1025 Museum Circle near Friendship Park. MOSH, first chartered in 1941, inspires the joy of lifelong learning by bringing to life the sciences and regional history. Museum hours are 10 a.m. to 5 p.m. Monday – Thursday; 10 a.m. to 8 p.m. Friday; 10 a.m. to 6 p.m. Saturday; and noon to 5 p.m. Sunday.  Admission is $10 for adults and $8 for active and retired military, seniors and children ages 3 through 12.  There is no admission fee for children 2 and under or museum members. Admission is $5 on Fridays.