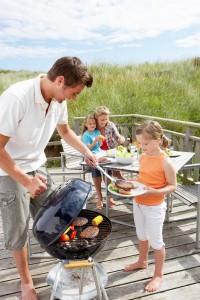 (NewsUSA) – Summer may have just begun, but mosquitoes are already out in full force in many parts of the country. In fact, several cases of West Nile Virus (WNV), which can be carried by infected mosquitoes, have already been reported. With the early start of WNV, compounded by the fact that 2012 was the deadliest year on record for the illness according to the Centers for Disease Control and Prevention (CDC), precaution is the name of the game this summer.
To help the public safeguard themselves from the bites of mosquitoes, the National Pest Management Association (NPMA) offers the following "Mosquitoes: Fact or Fiction?" guide:
Scented and citronella candles will protect me from mosquitoes: FICTION.
Some types of candles will reduce mosquito populations in the immediate vicinity but will not prevent mosquitoes from biting. Accordingly, when outdoors, it is important to always use an effective insect repellent.
All insect sprays are the same: FICTION.
The CDC recommends using an insect repellent that contains DEET, picaridin or IR3535, and notes that "some oil of lemon eucalyptus and para-menthane-diol products provide longer-lasting protection." To ensure safe and effective use, always use products in accordance with label directions.
Water in birdbaths, containers and toys should be emptied regularly: FACT.
Mosquitoes need only a half inch of standing water to reproduce. After rainfall, empty water that has collected in flower pots, recycling bins, children's toys, etc. Water in birdbaths should be changed two to three times per week to keep the water from becoming stagnant.
Mosquitoes are more attracted to women than men: FACT.
Research has shown that mosquitoes appear to bite women more frequently than men due to their different hormonal make-up. Interestingly, women with blonde hair are often more frequent targets for mosquitoes.
Mosquitoes only bite at dawn and dusk: FICTION.
Most mosquitoes are generally more active at dawn and dusk, but they can bite at any time of day. Certain kinds of mosquitoes, especially Asian tiger mosquitoes, are notorious for biting throughout the day.
Mosquitoes are more than just a nuisance pest. Their bites can cause harm to your family and your pets. To learn more about how to protect against mosquitoes this summer, visit pestworld.org.