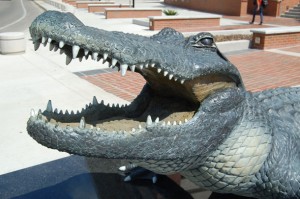 2013 got off to a successful start with a workmanlike, if unspectacular, win over Toledo in the Swamp.  Florida controlled both sides of the LOS as expected.  The OL was able to establish the running game early to control time-of-possession and keep the game plan vanilla so Miami would not have much to look at on film.  Mack Brown did a solid job at RB and didn't turn the ball over.  The pass blocking already looks like it could be a problem (again), as both Humphries and Moore allowed sacks.  Driskel was accurate and looked improved overall, but still holds the ball too long on occasion – he was also late on some throws and simply did not throw to some open receivers.  The second half was not exciting to watch on offense, as the Gators played very conservatively with the lead and allowed the Rockets to load the box on defense to stop the run.  Still minimal downfield passing – that has to change this week.
The defense overcame the loss of a handful of key players due to suspension and was able to contain a quick QB and veteran offense, allowing only 2 drives of significance.  Easley led the way on the DL and was disruptive all game.  There were few sacks and pressures, but that was mainly a result of a quick passing game.  The secondary is definitely the strength of this defense, and it should be difficult for opponents to consistently move the ball through the air all season.  Watkins did well stepping back in at CB for Purifoy after practicing all off-season at safety.  Roberson blanketed his assignment as usual.  Riggs was in good position all game at safety.  Even freshman Marcus Maye saw plenty of action.  The LBs did well in coverage, and also did not allow the QB to keep drives alive with designed runs or scrambles.
Best of all – no significant injuries.
Now it's on to Miami, and a huge showdown with the Hurricanes.  Since this series was discontinued as an annual game after 1987, the scUM "fans" always whine about how the Gators are running scared……well, Gator Nation will be represented in force this Saturday.  As always, there are recruiting ramifications tied to this game.  Florida has made some inroads recently into South Florida, and already has a handful of key prospects committed for 2014 – Al Golden is desperately trying to re-build the "fence" around South Florida, but it has a lot of holes in it right now.
It's time to see if the Gator offense is truly improved from 2012 and can show effective balance when it has to.  Letting teams continue to disregard any downfield passing game and crowd the box on defense with 8-9 guys within 10 yards of the LOS is a recipe for losing against a good opponent.  There have been a lot of positive words leaking out from fall practice that Driskel looks better as a passer and is reading defenses better – it's time to see it on the field.  He has to make quicker reads and improve on picking out the open receiver.   It appears that the RBs will be incorporated into the passing game more this year, and that helps, but it's time for the WRs to show they can contribute and stretch the defense and make plays.  Burton looked good on the intermediate routes and should be effective out of the slot.  It may fall on the true freshmen – Fulwood and Robinson – to help Dunbar out making some plays downfield.  The running game gets a huge boost with the return of Matt Jones from illness.  He has the size to keep the chains moving, but is also an excellent receiver.  It will be interesting to see how many snaps he gets, and whether he is used as a decoy on play-action passes.  Until this offense proves it can score 30+ points if needed, ball security is paramount – the margin of error is too thin to overcome a rash of turnovers.
The Gator defense will have it's full complement of players back, and will be challenged by a veteran Miami offense.  QB Stephen Morris runs a pro-style attack and has weapons around him – RB in Duke Johnson is a quick back who is dangerous in space, and WRs Herb Waters and Philip Dorsett can get deep.  Miami is also a good screen team – look for this early on if the Gator D-Line is causing problems for them.  The 'Cane OL is experienced and has some quality players in Shane McDermott, Brandon Linder, and Seantrel Henderson.  This will be a good challenge for a young and inexperienced (in some areas) Gator defense.  Miami should score some points – we'll see how the Gator defense responds and makes adjustments as the game progresses, and if the younger players can keep their poise.   The return of Purifoy bolsters the secondary, which should relish the challenge this week to prove to the country how good it can be.  The return of Tank Morrison helps a thin LB corps – this unit will be tested by containing Johnson, but also will see some screen passes and draw plays……discipline is key this week.  The DL will have a worthy opponent to test it – Easley needs to continue to make plays, and it's time for Fowler, Bullard, and Powell to turn up the heat on the pass rush –
Finally, the Florida special teams need to step up and be solid this week.  I fully expect some trickeration from scUM, and the coverage units had better be ready.  Kyle Christy needs to get his punting back to 2012 form.  The kickoffs by Austin Hardin were too short and lacked the height needed to offset the distance – that combination doesn't work against quality opponents.  The fall practice reports weren't very stellar – we will see very soon if this unit can hold things together.  If they can even approach the outstanding performance of 2012 (that would be hard to do), then they will be fine.Morris can be rattled and turn the ball over if pressured.
This is a huge game for Miami, and they are even going the "white-out" route for their "fans".  That should at least put some lipstick on that pig, as the thugs and vagrants that usually show up will at least look clean on the outside……although all of the gold chains and teeth could be blinding in the sunlight.  Florida needs to be ready for anything on defense, as the 'Canes are desperate to win this game to show their "fans" and recruits they are "back".  As long as the Gators can withstand the early rush of emotion and settle in, they should be OK.  This game could be similar to what the Texas A&M game was last season – either a springboard to a very good year, or a real downer and confidence-shaking loss.  The Florida coaching staff has shown it's ability to prepare for tough road environments and to make adjustments during the game or at halftime to win – all of those attributes will again be put to the test.  On a neutral field or at the Swamp, I would be a lot more confident that the Gators would win, as they have the better team.  However, on the road, with ACC referees likely pulling their usual stunts, strange things can happen.  This looks like a game that could be decided in the 4th quarter.  We will see if Muschamp decided to shut things down against Toledo in the second half, or if the struggles on offense will continue into 2013.  At least the Gators are used to a noon kickoff game already – they should be able to handle the heat and humidity.
Prediction – Florida 24      Miami 20