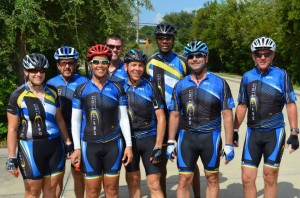 Team Definition Fitness San Marco was a HUGE success last year raising a grand total of $22,459 with three team members achieving 50 Phenom fundraiser status, 11 of 16 team members becoming Top Bananas, 8 of us riding the optional Century on Day 1 in under 5 hours saddle time, plus our Day 2 hammerfest keeping our entire 13 cyclist squad together at 20.7 mph pace for the 66 mile ride home.
This year, our team remains enthusiastic and has grown in numbers We are especially proud to welcome Popeye (The Boston Terrier) as an official team member. Popeye has ridden in the past five Bike MS events (never even peddling once), and for the first time ever he is registered for the ride and will be fundraising in his own right.
Riding a bicycle, a skill that many of us learned ages ago, can seem like such a simple thing for us, but it can have such a profound effect, especially when you ride for those who may not have the strength to pedal a bike themselves.
By joining on with our team or sponsoring a member of Team Definition Fitness San Marco, you will be joining in our journey for a great ride, and a celebration of the great things we can achieve when working hard for a common cause. Each mile we pedal brings us that much closer to a cure, and closer to a world without multiple sclerosis.
Our team has set high goals for fundraising and fitness which will make it all that more rewarding, as we will all strive to raise at least $1000 per team member AND ride the Day 1 optional century in unity. So what are you waiting for? If you are ready to accept this challenge with our team goals in mind, please contact me for information on how to join our team, or please consider making a donation on behalf of one of our riders.

Finally, a special and huge thanks go out to this years' team sponsors, without whom our team would not be possible:
DEFINITION FITNESS GYM – SAN MARCO MERCHANTS ASSOCIATION – DUVAL ACURA – MANIFEST MEDICAL – KINGSWOOD BUILDERS – STAN'S SANDWICH & GRILL SAN MARCO – MICHAEL P. MADDUX P.A. – LAW OFFICES OF JONATHAN A ZAHLER P.A. – NATE & MARIANTO UPSHAW
I am very excited to serve my second term as team captain for Team Definition Fitness San Marco MS Cycling Team this year, and look forward to your support for all of us in our fight against Multiple Sclerosis.
Jonathan "JZ" Zahler, Team Captain