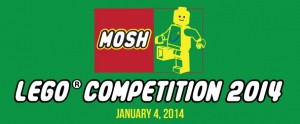 MOSH Opens Registration for Fifth Annual  LEGO® Competition
JACKSONVILLE, Fla. – Are LEGO® bricks at the top of your child's wish list this year?   The Museum of Science & History has the perfect venue to showcase your child's passion for LEGOs.  MOSH is currently registering contestants for its 5th Annual LEGO® Competition, being held Saturday, January 4 from 9 a.m. to 1:30 p.m.
Contestants (K-9th grade) can compete as individuals or in teams of up to four people to construct original LEGO® designs.  Children will be divided into zones according to grade level and winners will be selected from each zone.  The first place winning LEGO® designs will be on display in the Museum lobby for one month.
Registration for the LEGO® Competition is $30 per contestant (MOSH Members receive a 20% discount) and $5 per guest (parents, chaperones or siblings; MOSH Member guests are free). Contestant fees include full museum access, lunch for the participant, a certificate of participation, and a LEGO® Competition T-shirt.  Contestants will also be entered into a raffle to win a day at MOSH's Spring Into Science Camp. The deadline for registration and payment for both contestants and their guests is December 14. (Guests will be charged regular admission rates the day of the competition). For complete guidelines, or to register, visit www.themosh.org.
The Museum of Science & History (MOSH) is located at 1025 Museum Circle near Friendship Park. MOSH, first chartered in 1941, inspires the joy of lifelong learning by bringing to life the sciences and regional history.  Museum hours are 10 a.m. to 5 p.m. Monday – Thursday; 10 a.m. to 8 p.m. Friday; 10 a.m. to 6 p.m. Saturday; and 12 to 5 p.m. Sunday.  Admission is $10 for adults; $8 for students, active and retired military and seniors; and $6 for children ages 3 through 12.  There is no admission fee for children 2 and under or Museum members. Admission is $5 on Fridays.  Learn more at themosh.org.