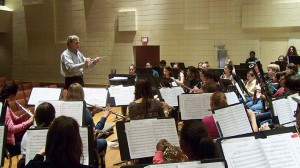 The 2014 District Private Schools Honor Band included 15 members of the Bolles Symphonic Band this year, more representation than any other private high school in Northeast Florida.  The culminating concert was held on February 22 in Terry Concert Hall at Jacksonville University.
Guest conductor for this year's event was acclaimed band composer and conductor James Curnow.  Curnow is one of the legends in school band music, with more than 800 compositions to his credit and a teaching career encompassing all levels of instrumental music education.  He is the recipient of many prestigious awards for his work and most recently was honored with a listing in the Grove Dictionary of Music.  The band's concert program consisted of compositions and transcriptions all written by Curnow.
Bolles band members performing with the honor band were:  Ben Abram '15, bassoon; Morgan Ashurian '15, clarinet; Alex Chila '14, percussion; Anthony Elias '14, percussion; Brenna Gehlen '14, french horn; Katie Greene '14, flute; Spencer Hayes '15, oboe; Helen Kostandarithes '14, clarinet; Alec Lerner '14, alto sax; Jasmine Maina '14, french horn; Margaret Odom-Tomchin '14, tenor sax; Alex Pentel '14, clarinet; Robert Pooley '16, alto sax; Ragini Sharma '15, trumpet; and Virginia Vasquez '14, clarinet.
Additionally, senior flautist Katie Greene was one of four students individually recognized for musicianship and leadership.  She was presented with a certificate and offered a $20,000 music scholarship to attend Jacksonville University.  This was an unprecedented fifth year Greene was selected to the honor band.  For this concert, she had solo passages on Curnow's Canticles.
This was the 21st annual edition of the private schools honor band.  The event is the vision of Artie Clifton, JU music professor and band director.
"It is such a wonderful enrichment experience for our band students," said Don Zentz, Bolles director of fine arts and upper school band director. "The past four years especially have exposed the kids to the people whose names they have seen in the top right hand corner of their band music since middle school.  And the students from all the different schools get to work together – collaboratively – not against each other in some sort of competitive format.  That's the difference with the arts.  I am so thankful to Artie for what he has provided now for all these years.  It has unquestionably helped us build our band program at Bolles!"