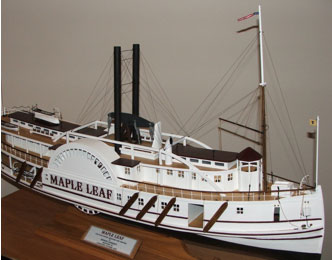 JACKSONVILLE, Fla. – Did you know Jacksonville is home to a National Historic Landmark? On April 1, 1864, a Union steamship sank in the St. Johns River after being struck by a Confederate torpedo.  MOSH will commemorate the 150th anniversary of this historic event with a day of activities that will shed light on this piece of the First Coast's Civil War History.  Maple Leaf History Day will take place Saturday, April 5 from 10 a.m. to 4 p.m.
Maple Leaf authority John Winkler will give a presentation on the steamship and craftsman Dennis Cannady will discuss the model-making process.  Cannady created a replica Maple Leaf model that is currently on display in the Museum's premier history exhibition, Currents of Time.  Other participants will include the Florida Public Archaeology Network who will lead a hands-on excavation activity and the St. Augustine Lighthouse, whose underwater archaeologists will be on hand.
After sinking in 1864, the wreckage of Maple Leaf remained virtually undisturbed until July 1988. Divers from St. Johns Archaeological Expeditions, Inc. entered the cargo hold of the Maple Leaf for the first time. In the spring of 1989, divers removed the cap rail section of the bow and brought it to the surface along with additional artifacts from the cargo hold. Some of the treasures uncovered by divers include Union soldiers' personal belongings, U.S. Army-issued weapons, and pillaged good from southern plantation homes.
Many of the artifacts recovered are on display in the Museum of Science & History's regional history exhibit, Currents of Time: A History of Northeast Florida.  A traveling exhibit on the Maple Leaf from the Museum of Florida History is also on display at MOSH through May 26.
The Museum of Science & History (MOSH) is located at 1025 Museum Circle near Friendship Park. MOSH, first chartered in 1941, inspires the joy of lifelong learning by bringing to life the sciences and regional history.  Museum hours are 10 a.m. to 5 p.m. Monday – Thursday; 10 a.m. to 8 p.m. Friday; 10 a.m. to 6 p.m. Saturday; and 12 to 5 p.m. Sunday.  Admission is $10 for adults; $8 for students, active and retired military and seniors; and $6 for children ages 3 through 12.  There is no admission fee for children 2 and under or museum members. Admission is $5 on Fridays.  Learn more at themosh.org.