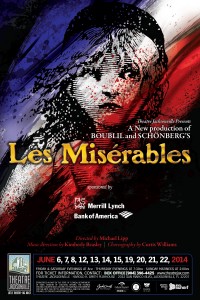 Theatre Jacksonville Presents a new production of BOUBLIL and SCHÖNBERG'S
Les Misérables
June 6, 7, 8*, 12**, 13, 14, 15*, 19**, 20, 21, 2014
This international smash-hit may be the most popular musical in the world, and it caps Theatre Jacksonville's 94th season in an exclusive first for local theatres in Northeast Florida. It's 19th Century France. The nation is in the midst of revolution, and convict Jean Valjean is running from the law. Hunted relentlessly by the policeman Javert for breaking his parole, he must create a new life and honor his promise to raise the young orphaned Cosette.
This epic story follows the increasingly dangerous cat and mouse chase between the two men as Valjean seeks to protect the ones he loves. Grand and uplifting, Les Miserables packs an emotional wallop that has thrilled audiences all over the world.
Tickets available for subscribers beginning May 20
Tickets available for the general public beginning May 27
Les Miserables is licensed by Music Theatre International (MTI)
by arrangement with CAMERON MACKINTOSH LTD.
line divider
All performances 8:00pm except *Matinee performance 2:00pm **Evening performance 7:30pm