Hurricane Season Begins June 1 – Ensure Your Pet's Safe Return if Separated During a Disaster
St. Francis Animal Hospital Hosts $15 Pet Microchipping Event Saturday, June 14, 3-6pm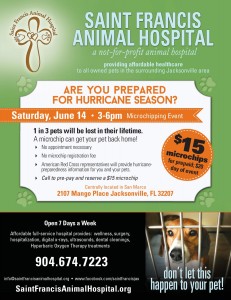 Jacksonville, FL (June 2, 2014):   Things happen to even the most responsible of pet owners — cats bolt through doors, dogs break out of a cracked fence board and pets can become separated from their families during a disaster.   The statistics are high with one in three pets being lost in their lifetime.  And with hurricane season beginning June 1, it is important pet owners ensure the safe return of their pets by having their pets microchipped.
That is why St. Francis Animal Hospital, a local nonprofit animal hospital, will be offering discounted microchips for only $15 on Saturday, June 14 from 3-6pm at 2107 Mango Place, centrally located in San Marco.  No appointments are necessary and there is no charge to register owner contact information in the nationwide microchip registry.  Red Cross representatives will also be on hand to provide information about hurricane preparedness for people and their pets.  The discounted $15 microchips are available to everyone that prepays prior to the event; microchips will be $20 if purchased the day of the event.  Pet owners are encouraged to contact St. Francis Animal Hospital in advance to pre-pay for their pet's microchip to ensure they get the $15 special pricing.
"We want to make sure every pet that is separated from its owner can be reunited with their family," said Dr. Susan Shelton, founder of St. Francis Animal Hospital. "It is so easy to have your pet microchipped and registered in the free nationwide Found Animals microchip registration database.  We are always happy when a found pet is brought to our hospital with a microchip and we can quickly reunite them with their owner."
A microchip is a small chip, about the size of a grain of rice that is injected under the skin in the upper back of cats and dogs.  The procedure only takes seconds and is similar to a regular vaccination.  Once a pet is microchipped, the owner's contact information is registered in a nationwide registration database.  The chips remain under the skin for the duration of the pet's life.  Whenever a found pet comes into a shelter or vet clinic, the found pet is scanned for a microchip and the registered owners are contacted.  Because of microchipping, animals have been reunited with their owners even after years of being lost, and at great distances.
Microchips can often cost anywhere from $45 to $80 per pet and many microchip registries charge a yearly registration fee.  Because the cost can often be expensive, St. Francis Animal Hospital and Found Animals are partnering to provide the discounted microchips and free microchip registry.  This St. Francis Animal Hospital Microchip Event is a great opportunity for pet owners to protect their pets and ensure their safe return if they are ever lost.  For more information, call St. Francis Animal Hospital at 904-674-7223, email info@saintfrancisanimalhospital.org or visit www.saintfrancisanimalhospital.org.
About St. Francis Animal Hospital:
Founded in 2003 by local veterinarian Dr. Susan Shelton, St. Francis Animal Hospital is a 501(c)3 nonprofit animal hospital whose mission is to make healthcare accessible to all owned pets in the Jacksonville area.  In support of our mission, St. Francis Animal Hospital treats every patient with compassion, providing affordable quality and comprehensive care that protects the special bond that exists between people and their pets.
St. Francis Animal Hospital believes everyone deserves the unconditional love of a happy and healthy pet and all pets deserve to be in a loving home.  Furthermore, St. Francis Animal Hospital believes it is not right to let an animal suffer with less than ideal treatment because their owner can't afford expensive veterinary care.  This is why it is a priority for St. Francis Animal Hospital veterinarians to provide the same high level of care to pets of all families at an affordable price.
St. Francis Animal Hospital doesn't receive state or federal funding; our only sources of revenue are the fees for our services and donations received from generous individuals and businesses.  Through the support of caring donors, we are keeping pets healthy and helping families keep their pets in their homes and out of local animal shelters.  St. Francis Animal Hospital is proud to be helping the people and pets in our community and we have been honored to serve over 7,500 pets in 2013.  For more information about St. Francis Animal Hospital, visit www.SaintFrancisAnimalHospital.org.
About Found Animals:
Found Animals is a privately-funded nonprofit dedicated to reversing the outcome for the three to four million animals euthanized each year in the United States.  Found Animals works alongside the animal well-being community to achieve one goal:  find the big ideas that advance the safety of animals in our homes, our shelters and everywhere in between.
The Found Animals mission is the happiness and safety of animals.  From microchips and registration, to responsible adoption initiatives and low-cost spay and neuter, Found Animals is committed to delivering practical solutions that will ensure the health and safety of dogs and cats everywhere.
Support for Found Animals and its initiatives comes from the generous contributions of Dr. Gary Michelson and Alva Michelson.  For more information about Found Animals, visit www.foundanimals.org.
Event Flyer PDF – SFAH-Microchip Flyer 85×11