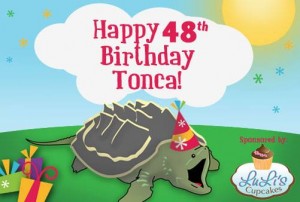 JACKSONVILLE, Fla. – MOSH is gearing up for the coolest birthday party of the year!  On July 12 from 10 a.m. to 4 p.m., the Museum will host a 48th birthday bash for Tonca, the Museum's beloved alligator snapping turtle.
This annual event has become a family favorite as it's the only day of the year the public can see Tonca out of his pond.  MOSH has a plethora of activities planned for party guests, including playing games and eating birthday treats courtesy of Luli's Cupcakes of St. Augustine.  Emmet, one of MOSH's gopher tortoises, will play party host along with resident critters from the Florida Naturalist's Center. 
The highlight of the party each year is Tonca's annual check-up.  He is hoisted from his pond in the Hixon Native Plant Courtyard where his veterinarian, Dr. John Rossi, examines him and weighs him.  The check-up is scheduled for 2:30 p.m. (Please note:  This time is tentative based on the vet's schedule and any medical emergencies and Tonca is only out of the water for about 15 minutes.)
As a thank you to party attendees, all MOSH birthday parties booked the day of Tonca's party will be 10 percent off.  MOSH birthday party packages start at $100 and include two hours of a private party room and a $10 gift card to The MOSH Store for the birthday child.  Packages can be customized to include planetarium programs, animal encounters and more. And, MOSH Members will receive a special party favor.
The Museum of Science & History (MOSH) is located at 1025 Museum Circle near Friendship Park. MOSH, first chartered in 1941, inspires the joy of lifelong learning by bringing to life the sciences and regional history.  Museum hours are 10 a.m. to 5 p.m. Monday – Thursday; 10 a.m. to 8 p.m. Friday; 10 a.m. to 6 p.m. Saturday; and noon to 5 p.m. Sunday.  Admission is $10 for adults and $8 for active and retired military, seniors and children ages 3 through 12.  There is no admission fee for children 2 and under or museum members. Admission is $5 on Fridays.