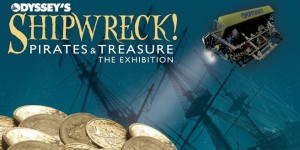 JACKSONVILLE, Fla. – The Museum of Science & History is excited to announce its next traveling exhibit opening October 11, 2014.  Odyssey's SHIPWRECK! Pirates & Treasure will take visitors on an adventure to explore underwater archaeology and the artifacts recovered from some of the world's most fascinating shipwrecks.
SHIPWRECK! will bring real shipwreck treasures – and the technology used to recover it – to Jacksonville.  In addition to 500 authentic shipwreck artifacts, and a treasure room with real gold and silver, the exhibit will explore the pioneering techniques and technology that has allowed Odyssey to discover some of the most famous wreck sites in the world including the Civil War-era SS Republic which is featured in the exhibit. A full-size replica of ZEUS, Odyssey's eight-ton Remotely Operated Vehicle (ROV) will be on display and a working model of ZEUS' robotic arm will allow guests to test their skills by attempting to pick up artifacts. Other hands-on components will include taking the helm of a ship in an attempt to steer it through a fierce storm and braving 75-mile-per-hour winds in a hurricane simulator.
The "World of Pirates" interactive gallery and activities will immerse visitors with the lore, legends, and facts of pirates of the Caribbean, Barbary Corsairs, Privateers and Buccaneers.  Guests can learn how to identify pirate vessels on the horizon using spyglasses, raise the banners of notorious pirates, learn to tie essential knots for life on the high seas, and create their own pirate in an interactive game.
Odyssey's SHIPWRECK! Pirates & Treasure will be on display at MOSH through March 31, 2015.
About Odyssey Marine Exploration, Inc.
Odyssey Marine Exploration, Inc. (Nasdaq:OMEX) is engaged in deep-ocean exploration using innovative methods and state of-the-art technology for shipwreck projects and mineral exploration. For additional details, please visit www.odysseymarine.com. Odyssey offers various ways to share in the excitement of deep-ocean exploration by making shipwreck treasures and artifacts available to the general public, students, and collectors through its webstore, exhibits, books, television, merchandise, educational programs and virtual museum located at www.OdysseysVirtualMuseum.com. The company also maintains a Facebook page at http://www.facebook.com/OdysseyMarine and a Twitter feed @OdysseyMarine.
About MOSH
The Museum of Science & History (MOSH) is located at 1025 Museum Circle near Friendship Park. MOSH, first chartered in 1941, inspires the joy of lifelong learning by bringing to life the sciences and regional history.  Museum hours are 10 a.m. to 5 p.m. Monday – Thursday; 10 a.m. to 8 p.m. Friday; 10 a.m. to 6 p.m. Saturday; and 12 to 5 p.m. Sunday.  Admission is $10 for adults; $8 for students, active and retired military and seniors; and $6 for children ages 3 through 12.  There is no admission fee for children 2 and under or museum members. Admission is $5 on Fridays.  Learn more at themosh.org.