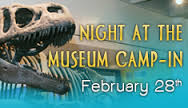 WHAT:           Night at the Museum Camp-In
WHEN:           February 28, 2015 –   6 p.m. to 7 a.m.
 WHERE:        Museum of Science & History,  1025 Museum Circle,   Jacksonville, FL 32207
DETAILS:      Join MOSH for an overnight adventure that includes a science show, a Planetarium program, and free time to explore the Museum.  At the end of the night, guests can unroll their sleeping bags next to our Allosaurus skeleton or dolphin.
COST:           Cost is $35 per person (adult required) and includes a late-night pizza snack and continental breakfast. Members receive a 20% discount. Register at www.themosh.org.   
The Museum of Science & History (MOSH) is located at 1025 Museum Circle near Friendship Park. MOSH, first chartered in 1941, inspires the joy of lifelong learning by bringing to life the sciences and regional history.  Museum hours are 10 a.m. to 5 p.m. Monday – Thursday; 10 a.m. to 8 p.m. Friday; 10 a.m. to 6 p.m. Saturday; and 12 to 5 p.m. Sunday.  Admission is $10 for adults; $8 for students, active and retired military and seniors; and $6 for children ages 3 through 12.  There is no admission fee for children 2 and under or museum members. Admission is $5 on Fridays.  Learn more at themosh.org.