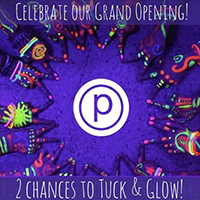 They've added a 2nd class to TUCK & GLOW as they celebrate their grand opening!! Grab your loudest neon spandex and your bestest barre bud and come LTB like its 1993!
This Friday, June 5th: tuck in the dark at 4:30 or 5:30! They will be celebrating after with BIG prizes, snacks and bubbly!
**if you're currently on the wait list for 5:30 and want to move to the 4:30, remember to take yourself off the wait list first!!
Hope to see you there!
https://www.facebook.com/purebarresanmarco
#tuckinthedark #tuckandglow #neon #grandopening#mysanmarco #ilovejax