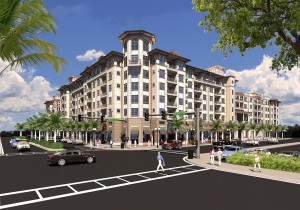 Jacksonville, FL (March 22, 2016) – Regency Centers, (NYSE:REG) a national owner,
operator, and developer of grocery-anchored shopping centers, has announced its partnership
with ArchCo Residential, Whitehall Realty Partners, and Bluerock Residential Growth REIT, Inc.
on their East San Marco development in Jacksonville, Florida. Anchored by Publix, this 4.33 acre
mixed-use project is planned to be the ideal live, work, and play environment for the vibrant
neighborhood of San Marco. Construction is scheduled to begin late this summer.
"Making sure we had the right players for the project was of utmost importance moving
forward," said Jim Thompson, Executive Vice President of Operations for Regency Centers.
"ArchCo has a stellar track record and was the perfect choice to handle the residential
operations of what we are hoping will become a powerful addition to an already great
neighborhood. Having Publix as our anchor will enable us to bring in the right merchandising
mix that will really reflect the lifestyles and interests of the surrounding area. They are
extremely well-respected for their quality of operations, and we couldn't be more proud to have
them as involved as they have been."
ArchCo Residential and co-developer Whitehall Realty Partners will be responsible for the overall
construction of the project. Jacksonville based Whitehall has led local efforts and will continue in
that role for the duration of the development. Upon completion, ArchCo and its partner,
Bluerock will own and manage the residential portion of East San Marco. Regency will own and
operate the retail elements of the center.
Neil Brown, CEO of ArchCo Residential said, "ArchCo is proud to be part of this exciting project
and to be partnering with Regency Centers, Publix, and Bluerock. A mixed-use development of
this type creates synergy between the residential and retail which in turn will provide great
benefit to the community." Jim Babb, Bluerock's Chief Investment Officer, added, "East San
Marco is one of several projects planned under the BRG/ArchCo venture. It is well located
within the San Marco neighborhood of Jacksonville and allows us to leverage ArchCo's deep and
seasoned management team and access proprietary opportunities to deliver strong returns to
our investors."
Located at the intersection of Atlantic Boulevard and Mango Place in the historic San Marco
community, East San Marco will include 46,000 square feet of retail, including a 32,500 square
foot Publix.
"We are excited about this project and for our loyal Publix customers. We've been committed to
this site since 2006 and look forward to serving the beautiful San Marco community," said
Publix spokesperson Dwaine Stevens.
Construction is slated to be complete in late 2018. More retailer announcements will be made
available as they occur.