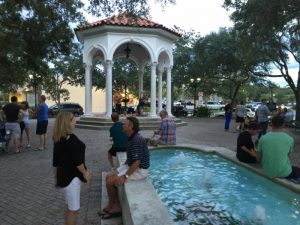 "First Friday" started back up on September 2nd after a hot summer break…and was almost cancelled because of Hurricane Hermine! Thankfully, the sun came out Friday afternoon, and with a light breeze the weather was perfect to sit outside and enjoy the sounds of the 77d's.
Mark you calendar now to come to Balis Park in the center of San Marco Square to hear The Session Jazz Quartet on October 7, from 6:00PM – 8:00PM in the gazebo. And then on November 4, enjoy listening to Leighton Serlo!
Also, as a bonus, plan to come to Balis Park on Friday, September 30 from 6:00PM – 8:00PM to hear a couple of young, up-and-coming artists, Luke Kobrin and James Stanford.
We hope to see everyone on First Friday Acoustic Night. You may want to bring a chair and stay a while!