Rula Carr, owner, announces the Grand Opening of her unique, multidisciplinary art gallery, The Vault @ 1930 (1930 San Marco Boulevard) on Friday, November 11, from 4-9 pm. The opening will help bring in the holidays in San Marco Square.
Located one house from the corner of Naldo and San Marco Square, the first-floor gallery will feature multi-disciplinary works from old and young, established and emerging local and regional artists ranging from the expressive bold cypress and terra cotta sculptures by Larry Wilson to the modern, geometric angular brushed steel sculptures by Dolf James to the beautiful Florida landscapes by Allison Watson, just to name a few. Art patrons and the Jacksonville community are invited and welcome to the Gallery Opening to meet and greet the participating artists and begin their holiday shopping early.
Carr is well known in the Jacksonville community as the owner and purveyor of high-end designer retail and accessories at her San Marco shop, The Snob.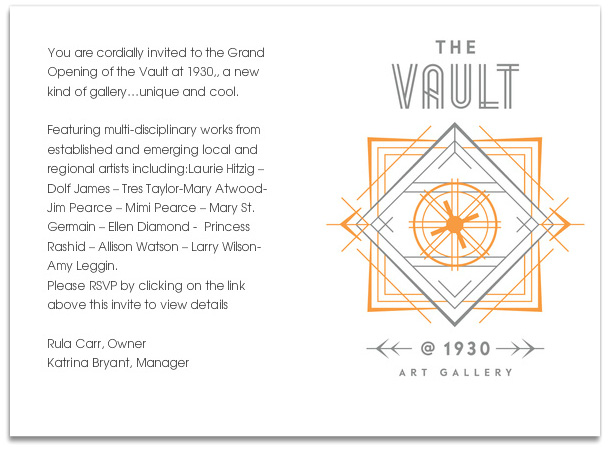 Or call 398-2890 to RSVP