Longtime entrepreneur Pete Helow plans open house at Roosters Men's Grooming Center in San Marco Square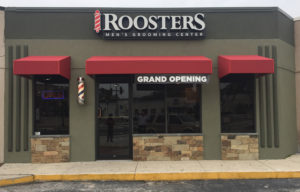 Roosters Men's Grooming Center, a high-end grooming and styling center catering to men's busy, modern lifestyles, is now open in San Marco Square. Owner Pete Helow invites San Marco business owners and residents to join him for an open house from 5:30 to 7:30 p.m. on November 9.
The San Marco Roosters Men's Grooming Center features six wood-paneled grooming stations with barbers and stylists expertly trained in hairstyling, haircuts, shaves and facials. Trained in the latest technologies and traditions, Roosters barbers and stylists are knowledgeable in classic and current hairstyling techniques. The San Marco Roosters also carries Billy Jealousy men's grooming products and Edwin Jagger razors and shaving accessories, only available in upscale barbershops.
Helow, a lifelong Jacksonville resident who has owned four businesses in the area, opened Jacksonville's only Roosters on Oct. 23.
"It's time men have a place where they can relax and unwind while taking care of themselves," said Helow. "With busy lives, professional men need a place where they can expect their stylists to be professional, efficient and provide high-quality service that matches their distinguished lifestyles."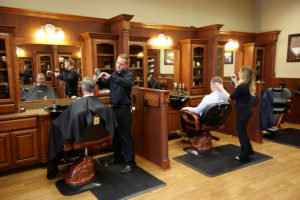 Helow's other businesses have included a marketing agency, photography studio and printing company.
Roosters is a franchise with more than 80 successful salons in major cities in 23 states. All barbers and stylists in the San Marco Roosters have been trained in Rooster's standards of impeccable service, attention to detail and commitment to quality.
The San Marco's Roosters Men's Grooming Center is located in San Marco Square at the intersection of Atlantic Boulevard and Hendricks Avenue. The shop is open seven days a week. Appointments are preferred and available for booking by calling 904-503-2051, online at www.roostersmgc.com or the Roosters mobile app. Walk-ins are welcome.