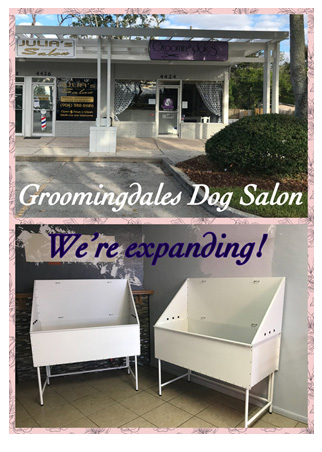 Groomingdales is expanding! They have taken over the unit next door (the hair salon) and have converted it into a larger bathing and drying area. They now have two tubs, two dryers, and more cage space!
They also have a ton of new things going on! One of which is their new client loyalty program! With every visit you will earn a star. After 5 stars you get $10 off! Just a little way for them to say thank you for being such an awesome client.
Refer a Friend & Save* Stop in today and grab your "Refer a Friend" card! Recommend Groomingdales to a friend and you'll both receive $5.00 OFF your pups next grooming appointment! *Offer vaild for new clients only and Referral card must be present at new clients first grooming appointment.
After Christmas Gift Card Sale! From now until Jan 31 buy $30 or more in gift cards and get $10 off! Don't miss out – Offer ends January 31, 2018
Ways to Schedule an Appointment – Stop in – we love to see you! Call 904-683-7077 Text 904-567-6886
Email groomingdalesds@gmail.com
Online at our Groomingdales Website