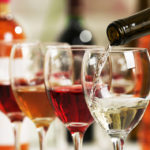 April is "Wine Month" in San Marco! Starting with the Wine and Chocolate Run on April 7th there are great opportunities all month to enjoy fine wine in San Marco. In addition to their Wine Wednesdays, Town Hall will be offering a Rosé punch for the month of April.
April 7th – Wine and Chocolate Run – Sponsored by 1st Place Sports and the San Marco Merchants Association
Wine and chocolate. Need another reason to run? Join us at the Wine and Chocolate 5K, benefiting the ongoing beautification of San Marco! The course runs in and around the beautiful San Marco neighborhood, and finishes with an awesome wine and chocolate after party in the Square! All participants will receive a custom designed wine glass and be entered to win prizes from the San Marco merchants! You won't want to miss this event!
Click Here for Details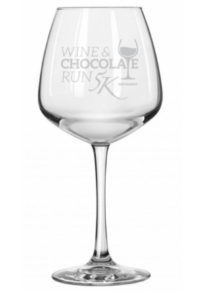 April 14th – Wine Down in the Parks – Sponsored by SMPS
TICKETS ON SALE NOW! The San Marco Preservation Society's 2018 Spring Event will take participants on a walk through three of San Marco parks to enjoy music, food, and drink. The event is a fundraiser to benefit the San Marco Preservation Society with proceeds helping to maintain the historic charm and fortify the future of the San Marco neighborhood.
Tapas, fine wines, and local craft beers are included in the ticket price! Local musicians will provide music in each park.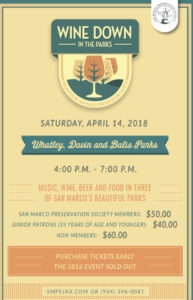 April 27th – Vintner in the Park – Sponsored by the San Marco Merchants Association and the following businesses:
Anita Vining – Berkshire Hathaway Home Services, Cronk & Duch Architects, Harris, Guidi, Rosner, P.A., Odyssey Travel, JayCox Architects.

Contact Jeannie Smith at Odyssey Travel to get your tickets.
JSmith@odysseytravel.com or call her at (904) 570-3000