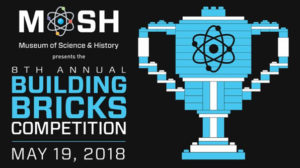 We are here again to witness kindergarten through 9th graders battle it out in a building bricks competition designed to foster creativity and promote STEM (Science, Technology, Engineering and Math) education. Participants will work in teams or as individuals to build original designs for the chance to win great prizes!
Cost: MOSH Members – $35 Non-Members – $40
Ticket includes: Full Museum Access, which includes Science & Animal Shows, Lunch, & MOSH Building Bricks Competition 2018 T-Shirt
Winners in each zone will receive awards and MOSH Gift Cards. Teams may contain between 2 and 4 members. (Projects will be placed into a "grade zone" based on the grade of the oldest participant of the team and will be judged accordingly).
$5 per guest (parents, chaperones or siblings).
MOSH Members are free.
At least one parent or chaperone is required to remain on campus throughout the event.
Additional $5 per guest lunch.
Lunch options include: sandwich, chips, piece of fruit and a water.
During registration you will be asked to select either Ham and Cheese, Turkey and Cheese or Veggie.
Meal requests are available for guests during registration only; no additional lunches will be available the day of the contest.
Advanced registration and payment are required.
Deadline for registration is May 4, 2018.
Visit TheMosh.org for full details
*Early registration for Members ends Friday, April 27, 2018.
MOSH is located on the Southbank of Jacksonville's beautiful St. Johns River next to Friendship Fountain Park.
1025 Museum Circle
Jacksonville, FL 32207
HOURS:
M-TH 10 – 5 p.m. | F 10 – 8 p.m. | SA 10 – 6 p.m. | SU 12 – 5 p.m.